Taking the old self to a new place
If you are in a place where the comforts of home have dumbed down your spirit, you need a kingdom journey. But recognize that a journey by itself won't change you. For that to happen, we need God to guide us out and eventually, to take us to a place of emptying and brokenness. Ear…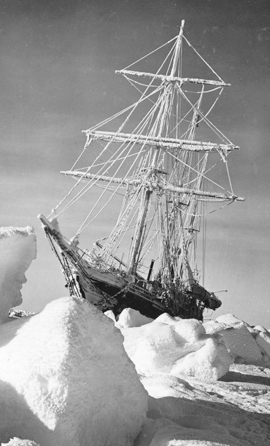 If you are in a place where the comforts of home have dumbed down your spirit, you need a kingdom journey. But recognize that a journey by itself won't change you. For that to happen, we need God to guide us out and eventually, to take us to a place of emptying and brokenness.
Earnest Shackleton wrestled with the curse of restlessness (see
yesterday's post
). But his trips to explore the South Pole didn't cure it. In
1917, he volunteered for the English army and fought in World War I. He
returned home in 1918 after suffering what was probably a heart attack,
having seen no combat.
Once a vehement enemy of all drinking, he became
an alcoholic. In 1920, he began planning another expedition, this time
to circle Antarctica and map the continent, and a year later, he set
off. He did not live long enough to see England again, dying of a heart attack near Buenos
Aires.
Despite his heroism at sea, he left his family in shambles. His family inherited his ₤40,000 debt, ($2.3
million in today's dollars). Rarely at home, he could hardly have been called a
good father. A charity fund had to be established after his death to
pay for the education of his children. Today, his character is held as
an example to US Navy officers of how to handle disaster in an
emotionally controlled manner. Yet, his personal life was a mess.
Transformation is not automatic, and if one day, without a call, without
following God, you just leave and go on a journey, you might be
disappointed when you get back and fall into the same patterns.
Shackleton thought he would find freedom on the sea, but he only found
alcoholism, loneliness, and death.
Richard Rohr calls this the
"geographical solution," and says, "We forget we take the old self to
the new place." Our physical journeys do not change us by themselves.
We can only have freedom if we allow ourselves to be changed. We have
to embrace the pain of emptying before we can be filled. The journey
won't do that for us by itself.
But, of course, neither will praying, fasting, meditating, and all the
other spiritual disciplines. Just look at some of the very religious
Muslims, Hindus and Christians who live violent and bitter lives. A kingdom journey gets you on the road to change, but by itself is not enough.
If you are feeling called to a kingdom journey, embrace it. Prepare
yourself to respond with gratefulness to the pain you encounter along the way. Get ready to learn
to find some kind of satisfaction in the emptying process. Practice the
secret of being content in whatever circumstance, whether poor or
rich. And if you're on a kingdom journey right now, lean into the
discomfort. It will set you free.
Comments (8)
love the story – good analogy!:)

Thank you so much for posting this!! I have felt the lure to one of these kingdom journeys for a long time, but I also knew the Lord was telling me "wait." so I have waited, sometimes patiently and sometimes not. I have needed to remind myself many times of the possible consequences for running ahead of him. Recently he clearly spoke to me, saying "you are free to go." Oh how sweet those words rang! So now I am mustering the courage to step out… and making solid preparations for the journey. Knowing that this is more than just an adventure for adventure's sake, that it is Him sending me out, make all the difference!

Good blog

made me think of the circles of influence with self and home at the core

king David also had a home in shambles

gotta serve spouse and kids first

Embracing the journey and leaning into some pretty intense discomfort myself at the moment, so my prayers have become pretty simple: Lord lead me, sustain me, protect me and carry me when I am about to fall.

"lean into the discomfort. It will set you free."
The hardest part of dying to self is the dying, because going willingly to the cross isn't easy. As long as "dying to self" only means "a little sacrifice" I find myself willing, but when it means PAIN, I find myself rebelling.

Thanks for this Seth. Years ago I read a biography of his life and it was filled with dangerous, messy wonder. There really isn't a life following the spiritual disciplines without learning to be comfortable in discomfort. The trek of faith is one where we manage tensions with God's help more than solve problems and create solutions on our own. Thanks for modeling that so well…Love from the mountains…

"We have to EMBRACE THE PAIN of emptying before we can be filled."

Powerful post! This topic has been on my heart for awhile now. I just shared 2 videos by Watchman Nee on my site entitled, "The Importance of Brokenness."

You are encouraged to visit:
http://www.empoweringchristianwomen.com/2011/04/importance-of-brokenness.html

I'm learning to EMBRACE THE PAIN; the struggle to deny pain's work in myself sometimes causes more hardship than is necessary.

#TRUST GOD

"For my thoughts are not your thoughts,
neither are your ways my ways,"
declares the LORD.
"As the heavens are higher than the earth,
so are my ways HIGHER than your ways
and my thoughts than your thoughts.

~ Isaiah 55:8,9

I'll check out your site, Karla. Good insight.
Subscribe to Radical Living:
Receive updates on the latest posts as Seth Barnes covers many topics like spiritual formation, what if means to be a christian, how to pray, and more. Radical Living blog is all about a call to excellence in ministry, church, and leadership -as the hands and feet of Jesus.