The Hunger Games and you
In my household, I can't ignore The Hunger Games. My five girls (including Karen) are fans of the book. And all are eagerly looking forward to the movie that opens in a week. It's a futuristic novel set in a post-apocalyptic America. 24 young people are selected by lottery to compete in a t…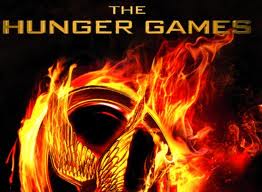 In my household, I can't ignore
The Hunger Games
. My five girls (including Karen) are fans of the book. And all are eagerly looking forward to the movie that opens in a week.
It's a futuristic novel set in a post-apocalyptic America. 24 young people are
selected by lottery to compete in a televised battle in which only one person can survive – it's a reality TV fight to the death. The heroine is a 16 year-old named Katniss. We follow her as she competes to survive. It's compelling reading, and the movie promises to be a blockbuster.
The plot taps into a basic survival instinct we all have. When I was younger, it manifested in a recurrent dream of nuclear war I used to have. Inevitably I was trying to outrun the radioactive fallout. Subconsciously, I must have been deeply distressed about the possibility of an apocalypse and worked out my worries in my dreams.
Katniss has a younger sister, Prim, who is selected as one of the 24 Hunger Games participants. She loves Prim more than life itself and volunteers to take her place. It's a poignant moment in the story, and for those of us who follow Jesus, the theme of sacrificial love resonates.
We need answers as we struggle in our lives. We don't struggle for survival in America like a lot of people in other countries. But we do struggle to find out who we are and what we should do in our lives.
We may not die of hunger or in gladiatorial games, but we do have existential struggles that may last a lifetime. The point isn't to avoid the struggle, but to face into it.
Comments (2)
The power of sacrificial love, as embodied by Katniss, is good to see in the midst of a portrayal of a society that was so dark in many ways.
Subscribe to Radical Living:
Receive updates on the latest posts as Seth Barnes covers many topics like spiritual formation, what if means to be a christian, how to pray, and more. Radical Living blog is all about a call to excellence in ministry, church, and leadership -as the hands and feet of Jesus.