The Jesus I never knew
Dave Brown is in Cambodia on the World Race. He's teaching Cambodian teenagers and is finding his world turned upside down. He shares the following story from the classroom: this past wednesday i sat in a class with kids really anxious to hear me teach about Christ. they are very respectful …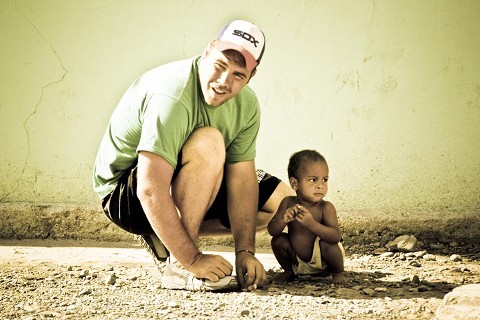 Dave Brown is in Cambodia on the World Race. He's teaching Cambodian teenagers and is finding his world turned upside down. He shares the
following story
from the classroom:
this past wednesday i sat in a class with kids really anxious to hear me teach about Christ. they are very respectful and always begin questions with, "Teacher, what do you think about…?" It made me think of the way people came up to Jesus asking him for his wisdom. Praise the Lord i'm not left to rely on my own words, but instead could point them to scripture and to the Words of Christ in those moments.


I was talking about how i can know Jesus is real without having ever seen him. That's a heavy question, and it was hard to explain in simple words so the class could understand, but God was gracious in giving me words. As i was answering, a young man, probably about 17 sat down next to me.

he asked me a question, right off the bat…"why do christians go to church every sunday…?" it was a simple question, and i gave him a really long answer – more than he wanted. i basically ended with, the church is supposed to be all about Jesus. "i can prove that is not true," he said. expecting him to talk about american culture or the way the church has slandered the name of Jesus, i was shocked to hear him continue, "when i went once, they had bread they ate and wine they drank. that is not about jesus, is it?"

with that, i was able to talk about communion and what it represented. jesus body was broken, and here's why it needed to be broken. his blood was shed, and here's why it needed to be shed. i finished sharing the gospel, and he made a comment to me . it's a comment that has haunted me since, and a comment i'll never forget…it was the first time i'd ever heard someone say…

"i've never heard of this Jesus before."

how can we have a world like we do where someone has never heard of Jesus Christ? i asked him what he thought about what i shared, and he honestly didn't know. knowing God wasn't done with him, i asked if i could pray for him and he agreed. i prayed, and watched the holy spirit fill him, captivate him with wonder, and ruin him of what he thought he knew as i ended the prayer.

"what was that?" he asked. The spirit brought him to a place where he knew he needed Jesus, and was willing to trust his life to him. Tong is his name – be praying for him. I'll see him almost every day for the next two weeks. He wants to be my brother, and for the next two weeks, we'll make that happen. pray the Lord provides other brothers for him as well.
Comments (2)
!!!!!!!!!!!!!!!!!!!!!!!!!!!!!!!!!!!!!!!!!!!!!!!!!!!!!!!!!!!!!!!!!!!!!!!!!!!!!!!!!!!!!!!! YES!!!!!!!!!!!!!!!!!!!!!!!!!!!!!!!!!!!!!!!!!!!!!!!!!!!!!!!!!!!!!!!!!!!!!!!!!!!!!!!!!!

What a beautiful testimony!! Thanks for being where God led you, Dave 🙂
Subscribe to Radical Living:
Receive updates on the latest posts as Seth Barnes covers many topics like spiritual formation, what if means to be a christian, how to pray, and more. Radical Living blog is all about a call to excellence in ministry, church, and leadership -as the hands and feet of Jesus.