The most amazing week of my life
We all need prayer. If you'd like someone to pray with you or disciple you, our new blog ministers would like to help (just email me. Or to learn about them, click on their photos on the sidebar at left). From time to time I'll ask one of them to share. The first of these is Patti Blakely. She ex…
We all need prayer. If you'd like someone to pray with you or disciple you, our new blog ministers would like to help (just email me. Or to learn about them, click on their photos on the sidebar at left). From time to time I'll ask one of them to share. The first of these is Patti Blakely. She explains how she found the blog and how God subsequently touched her life. – sb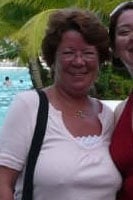 You've heard that your life flashes before your eyes before you die. I learned last week that God sometimes takes the opportunity to review your life and leave you still breathing.
A glitch on my laptop led to the most amazing and fullfilling week of my life. I was playing on Facebook and a blog page appeared out of nowhere. I began to read the entries and knew that I had a connection with this person named Seth Barnes. So I sent an email to him. 15 minutes later the phone rang and it was Seth. We talked for no more then 10 minutes and agreed to meet for lunch. Little did I know, but my whole life was about to change.
It began with an AIM project in nearby Gainesville. Toya, Cory, Kim were the leaders. Here's what happened and the two lessons I learned.
Lesson 1:
I had lost my dad seven months ago (November 7th, 2008) and the Lord shut me down, physically, mentally and emotionally. I could no longer work my high power job – I was given a severance package with love.
En route to AIM I asked God the question, "What do you want me to do and who do you want me to help?" The answer was, "Trust me today."
Seth met our bus on the way to the Boys and Girls Club and asked for three volunteers for a special assignment. I raised my hand. He told the story of Robert, a saint amongst us who was dying in the hospital. We were to meet him in a hour to pray with the family, in the same hospital and the same room where my dad had died. I was afraid, but with Seth, Floyd, and Liz by my side we went Robert's room. Instantly the Lord was at my side so that I could take all the lessons that I had learned and minister to Robert's wife and oldest daughter. I told them, "You are not alone and Robert is not ending his life, but beginning a new one."
What I learned:
Ask for support and God will be there even when you don't know that he is there. When he allows you to experience pain in your life, it is to learn a lesson that will enable you to help heal others.
Lesson 2
I was brought up to be the best at everything I do. Asking for help was a sign of weakness. Being a follower not a leader was a failure. Everything that I said or did was to impress the world and show I was tough.
We had a worship session Tuesday night with Seth and Jake. As Jake led the prayer for us, the Lord spoke to me thru him and laid my life out, faults and all. Who did I think I was fooling for all these years? Not the one who knows me best.
What I learned:
I might fool people around me, but God wanted an up close and personal relationship with me. I learned you cannot impress him, he was impressed with you from before you knew how to breath and called out your name in joy and love.
All of the corporate back-stabbing, dreams of over-achieving, saving the world, and awards, were nothing more than power plays and had no purpose in God's plan for me. They crowded my heart with nothing but negatives. I'm learning to love him as a Dad. To talk to him, to tell him the truth, to listen for his answers, and just be real.
I have met many new friends in Gainesville this week and will continue to share how wonderful a life video is when you accept the invitation from the one who truly loves you most and wants the best for you.
Comments (14)
Patty, it was awesome to have you with us. I'm so glad that God met you here to usher you into a new season with a great purpose in His kingdom.

Thanks for giving us a glimps into what He is doing in your life and in your heart.

This is truly one of the best blogs I have ever read! I am printing this off to take a look in the mirror and do some soul searching about myself. Jesus!

Good to read this, Patti. Thanks xxx

Thank you for sharing this Patti

God is going to use your testimony many times in the future because Satan is trying to detach people from their true self in the work place….professionalism, Political correctness etc is driving people to be something they are not in work.People are losing their real identity and chasing unobtainble, unsatisfying dreams.

Keep it real!

Godbless you for sharing!

"I might fool people around me, but God wanted an up close and personal relationship with me. I learned you cannot impress him, he was impressed with you from before you knew how to breath and called out your name in joy and love."

Wow. I just thought that worth repeating. I didn't expect to be exposed today. When I put this together with Lesson 1, my heart is fearfully asking- "Is it possible that Ive spent 53 years struggling privately while publically 'playing to my strengths' when what God really wants to use is my broken places?"

ooo- or is it my broken places that are really my strengths? Man! for a really smart person, I am sometimes so very slow.

"When he allows you to experience pain in your life…"
This is the difference between wounds and surgery.
A lot of people (christians) walk around with their wounds still bleeding, when God wants to do surgery and make them whole.
You have allowed wholeness and healing that only God can do. Alleujah to the King!
AND…you have 'lesson learned' example as well…wow!
Thanks for sharing your life and healing.

Dear Dadi Seth,

I am very happy to read and I blessed too much.God bless You.
Emmanuel Sadiq

Patti
I have just read your blog 3 times now and I have no words that I am able to share right now , other than just simply thank you.

Hi friend,

It's hard to believe that several decades ago we were running in the same circles for competitive speaking as intercollegiate workaholics searching for meaning in achievements and "claps from the crowd". In those days Seth Barnes, Karen (his partner in life) and I were being forged into something potentially useful during college days at Wheaton. Today we have all met at a different place in life but with a passion to make a difference for the unshakeable Kingdom of Jesus. There are times where circumstances lead one to surmise that God is a "prankster". He does things in a curious fashion and is often non-linear and without a syllogism to provide supporting logic for unfolding events. So it is in the spirit of this spiritual syncronicity I say "thanks" for your words here and for that moment in what seems like a lifetime ago when you said "yes" to the gentle nudges of the Father.

Hindsight shows He was up to something. Now we know.

Shalom.

Patti! You have been a huge blessing the last couple weeks… to the Ambassador staff, leaders, serve crew and participants during our training camps. From managing the store, the medical runs, pedialyte…and prayer! Thank you!

A humble thank you to the Lord, my Dad, Seth, Jake, the AIMs family, and each of you for you comments. It has been an honor to take on this journey with each of you.

The joy of being real and true is more then I could have ever imagined. I look forward to sharing and caring with you all.

Saturday is the 4th of July and I will be celebrating my new freedom. Blessings to all in the love of my Dad!

I am encouraged and blessed to have read this note. It is a great to see how God really does care about each of us. Thanks for sharing. Freedom from the chains is such a great feeling. Live to tell about it!

In us there are three persons:
What we believe to be.
What others think we are.
What we really are, and Lord knows
Comments are closed.
Subscribe to Radical Living:
Receive updates on the latest posts as Seth Barnes covers many topics like spiritual formation, what if means to be a christian, how to pray, and more. Radical Living blog is all about a call to excellence in ministry, church, and leadership -as the hands and feet of Jesus.