The sex trade is an abomination
It's sickening to see 13 year-old girls recruited by their parents to become prostitutes. It's disgusting that a culture would be so sex-obsessed that it would be normative for parents to prepare their children for such a future. If we could see the seamy industry that has grown up to…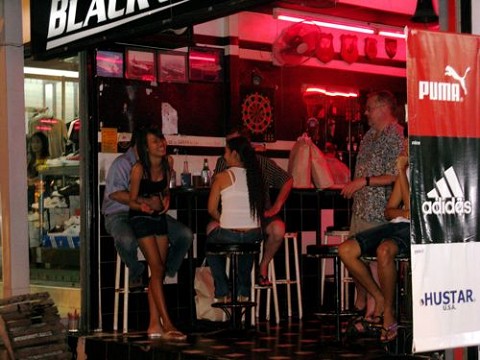 It's sickening to see 13 year-old girls recruited by their parents to become prostitutes. It's disgusting that a culture would be so sex-obsessed that it would be normative for parents to prepare their children for such a future. If we could see the seamy industry that has grown up to support this abomination, we'd be appalled.
Two years ago I sat down and watched the movie

Human Trafficking

in horror and disgust. I remember pacing around my room after the movie finished and wondered why I had never known all that goes on before my very existence. Questions ran through my mind, "Why isn't more being done to help these women? How can I help them? How can I spread awareness to all of the others who never knew about this either?"

Six months later I found myself walking down the dark streets with fluorescent neon lights lining the many bars in Patong, Thailand. I felt a sense of what it must feel like to be human prey, not just in the eyes of men looking to buy a woman for the night, but in the eyes of Satan. Lurking and hovering… to steal, kill and destroy. To literally devour each woman one by one. To bring torment and destruction. To allow these women to experience a degree of hell here on earth. Satan hates them. Each and every one of those women.

As I walked down the dark streets late at night, I looked forward to seeing the women that I had befriended. It was hard to swallow the fact that when I went to visit my girls at the bars, they would already be drunk before the night had begun. I guess I don't blame them for numbing themselves to the things they have to endure on a daily basis; physically, mentally and emotionally.

Emerging myself into an environment like this moved me. How could it not?! Experiencing an injustice like this leaves me haunted and screaming for something to be done.

Is this one girl not worth fighting for? Aren't they all worth fighting for!?

For me personally, sitting at home watching the movie and making myself aware of the issue just wasn't enough. I had to actually get up and do something about it. So it's not coincidence that God placed this opportunity for me to move back to Phnom Penh to live amongst these women, battling this injustice and advancing the kingdom in a place that He has already claimed freedom in.
The team is busy raising support this summer. They need others who are similarly worked up about the issue who can't go but want to do something about it.
Let me encourage you to read their blogs and pray for them. They are brave – their families have the same questions about their safety that any of us would have. They are being called into a dark place to engage in a heroic task.
Comments (8)
I only respect groups who are real………

I'm Thai woman from Thailand have bend working in Human Trafficking in Thailand,Phnom Penh Keloo11 and Burma for a good 10-13 years.My father have a church in Pattaya mose of them Exprostitutes and a Lady Boys!. I am so blessed to know that someone care.Jesus Christ has Experiencing an injustice like this too. He die for us all. keep up the good work, may the bless you and keep you.

awesome story. not settling for short term and going for it all. awe inspiring

Blessing upon blessing to these girls… may the Lord bring much harvest from their work. It may be "enemy territory" but greater is He that is in us than he that is in the world…

Just to clarify my comment Seth…The "problem" is clear and easy to market. The difficult thing is finding organizations doing something more than describing the problem. In my experience The International Justice Mission leads the way. If the systemic causes of this horrific social and spiritual crisis are not addressed there is no redemption.

I know this wont be a politicaly correct statement but,I tire of hereing about how sexually abusive men are.I live in a small town in Michigan where 4 men I know were sexually abused by females at various ages 2 by babysitters,1 by his sisters friend, and myself by my mother.One of these died at 23 of a heroin overdose,one has been to prison and is a addict/alcoholic,another is bisexual-and addicted.By the grace of GOD Im clean and still healing.So if I live in a small rural town and know of 4 in my circles whove disclosed this deeply personal wound. How many more are out there? I would love to have people intercede for all those wounded boys out there who walk around in mens bodys.I dont mean to detract from this blog but while were on the subject!!! sexual abuse creates alot of problems for both genders because of our god given strengths and natural weaknesses.

Hugh, you are ever so right. The statistics are just higher on the woman's side – 1 in 4 women are sexually abused before they turn 18 – but it's pretty high on the mens side too – 1 in 6. And yes, often at the hands of a woman. Yet these are just the people who report something – i think the real statistics are much, much higher. And growing by leaps and bounds in our porn- and sex-saturated society. Hurt people hurt others. Abused people abuse others (in all kinds of ways).

I have personally come to believe that sex abuse is one of Satan's deadliest plans against children, men and women. One of his ultimate long-term "steal, kill & destroy" strategies. Think of it – if he can get an older child, an adult, or better yet, a family member (who was probably abused themselves) to molest a young boy or girl – even if that child comes to Christ – they will carry with them wounds that need deep healing. Wounds that will keep them bound up in secret sins they don't even understand the power and depth of for years to come. I've only just discovered the effects of this deadly "strategy" on my life 37 years later. Ted Haggard began to discover his back in 2006. And my goodness, there are MILLIONS of others who have yet to recognize Satan's strategy upon their lives. Don't we know he arranges experiences all throughout our lives to reinforce the lies he first fed us?

And back to this blog, think of how the girls and boys in the sex trade will fare. WHO WILL BE THERE TO HELP THESE KIDS find freedom in Christ and recover from the devastation Satan has brought upon their lives? Thank God, Steph and her friends are going to help some of these girls in Cambodia…
Subscribe to Radical Living:
Receive updates on the latest posts as Seth Barnes covers many topics like spiritual formation, what if means to be a christian, how to pray, and more. Radical Living blog is all about a call to excellence in ministry, church, and leadership -as the hands and feet of Jesus.