I believe in discipleship. I believe in taking your time with a few people – helping them get it right. Matt Ruple is a good example of how that works. He went on the World Race. He was wrecked for the ordinary – his life was changed. Wanting to find out how to live out this new life, he came to Gainesville and was a part of a discipleship group I met with for the better part of a year.
Then Matt joined a team of other 20-somethings who felt called to move to Kenya to work amongst the poor who had been evicted from their homes in the slums of Kibera and forcebly resettled in the Rift Valley.
Matt describes the problems that they encountered there. They've tried a number of interventions, from wells to microcredit projects. After all their experimentation, they've found that one solution has produced the best result.
The Problem: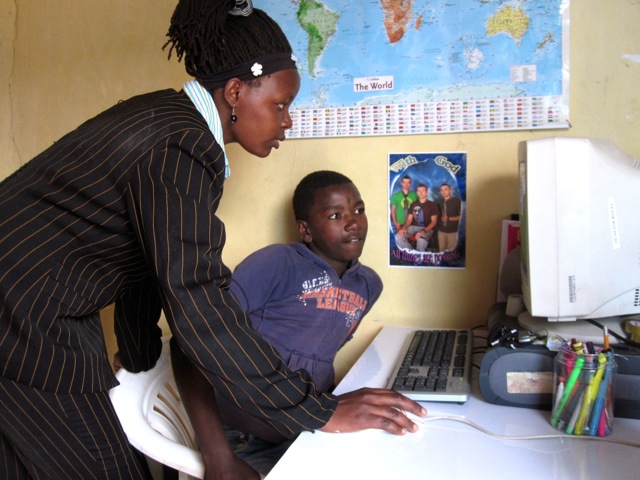 Although family is very important in Kenyan culture, most families we work with are broken and struggling to survive. A majority of families in the IDP [refugee] camps consist of single parents trying to make an income and provide for themselves as well as their kids.
There are numerous single mothers trying to care for as many as 6 or 7 children. This is a difficult life, simply making it through the day-to-day and getting enough to eat.

(Photo: One of the five leaders, Gladys, helping Paul on the computer.)

Relationships and mentoring can take a back seat and suffer because of the immediate physical needs facing their families.
With the stressed family structure, the church should be a place where single parents and children can turn to for assistance. While this is true in some cases, most often the church isn't helping families develop or providing applicable training for those who are trying to follow Jesus. There is an emphasis on converting new people to faith in God, but training believers in growing in their relationship with God is something that doesn't get the attention it deserves.
The Solution:
In short…discipleship. People need to be invested in. They need someone to care for them and to intentionally show them the love of the Father. This is especially true for children growing up in fatherless homes, for kids whose mother is gone most of the time working in the fields, and youth who haven't had examples of Godly men and women in their lives.
So, in conjunction with helping get youth back in school, we're helping to start and after school program for those students. Currently, our team is helping to mentor a group of five young adults who have finished secondary school (high school). We've been meeting together, praying over God's vision for what's ahead, and empowering them to be the change that they want to see.
In the next couple weeks, these five young adults will start to give back what's been invested in them. They are going to be the leaders and teachers in the after school programs. They will be teaching English, helping students with their homework, counseling anyone who wants it, and investing time and energy into children who desperately need positive influences in their lives.
We're excited about what's transpiring here and about the generation that is going to shift the cycle of poverty that's been here for so many years!
People need water, they need schooling, they need microcredit. All are important. Social justice issues are all the rage and we need social justice. But they need to be given in the context of relationship and tied to discipleship. Jesus met felt needs, but his main thrust was to focus on discipleship as a top priority. Maybe we need to do so too.