'The van rolled 3 times & landed on me'
Last weekend, Tommy Sullivan's World Race team was looking forward to a weekend at Lake Malawi. All eight of them packed into a van and were driving along the road when the van had a blowout. Tommy was ejected through the window. The van rolled three times and landed on him. He tells the story. …
Last weekend, Tommy Sullivan's World Race team was looking forward to a weekend at Lake Malawi. All eight of them packed into a van and were driving along the road when the van had a blowout. Tommy was ejected through the window. The van rolled three times and landed on him. He tells the story.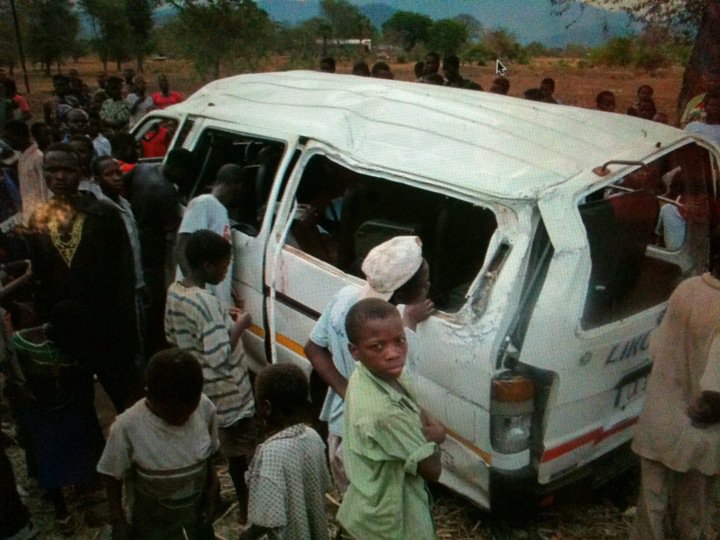 Suddenly, I heard a loud 'POP' and was roused out of a
light sleep. I heard screaming and all I saw was the van careening for a ditch.
…The next thing I remember is being underneath the van. It
was so strange, but the thoughts of rolling in the van flooded my mind, like
they were memories from a long time ago and I was just recalling them. I was
pinned on my right side, the van crushing my left hip. I tried to squirm to get
free but there was no hope, I wasn't budging. I just started yelling, 'HELP!'
Luckily my cries were heard and
apparently Melissa actually saw me get thrown out of the window.
Everyone piled out of the van to help lift
the van and pull me out. I still do not understand how I got out of the van.
The window was not very large and there was a solid metal bar cutting across
the center of it, making it impossible to fit out of, but apparently I did.
Anyway I flew out of the vehicle and judging
from my swollen lower back, I must have hit the ground flat on my back and slid
a while.
God's provision and protection was with us. Moments later a military truck with a stretcher and soldiers trained in first aid just happened to drive by. I was put on a stretcher and taken to a hospital that just happened to be a few kilometers up the road. God is good. I was given some stitches and basic medical attention at that hospital. Natalie helped out the doctors a lot. I was soon transferred to a different hospital right next to the Lake, so about 40 km away. They did not do too much, expcept give me a make shift neck brace.
I will never forget this hospital though because of what Natalie and Juliette did. I was being rolled in on a stretcher, Natalie was stabilizing my neck and Juliette was holding my I.V. bag as we walked to the ER. I could do nothing but look up at the moment and all I saw was those two women sacrificing to help me out. They were in the same accident I was in and they had their own injuries to attend to. Juliette was favoring one of her arms, at the time we were pretty sure it was broken, but she still carried my I.V. bag with her good arm and never complained once. It was a beautiful display of love.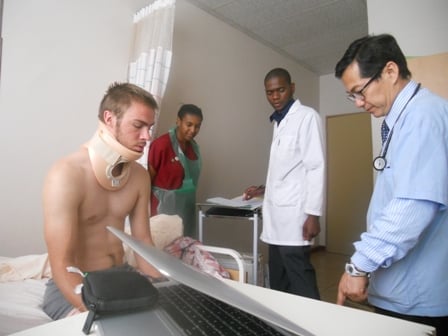 The doctors started to look at me strangely, Doctor Lee in
particular. Dr. Lee is a great man that took very good care of me. He told me
that I should not be alive and that he sees accidents all the time that are
just like this and the victims are never in good shape.
He told me with the
most dead serious face, 'The Lord has
protected you and your friends tonight. There is no way that all of you were so
unharmed by such a serious accident.'
The next morning, Monday, Dr. Lee
walked in to see how I was holding up. I stood up and told him I felt really
good. He gave me that blank stare again. He was dumbfounded. He witnessed a
miracle as I began to walk towards him.
God is already getting glory for what He did that night. My prayer is that
He will continue to receive all that He is due for what He did. I also pray
that this story about 8 missionaries in Africa divinely surviving a bad
accident will inspire others. I pray that believers in God will be spurred on
to greater heights and deeper depths with the Father. I pray that those who do
not believe in God or know Jesus will simply consider that God had a hand in
this. I do not want anyone to tell me that I am lucky. That's foolish talk. I
am blessed. God showed up in a huge way and there is no other explanation.
Comments (9)
Tommy, I praise God tonight that you and your team were protected and blessed by God from such a horrible accident! You see my friend, what you and your team are doing right now is Kingdom work and the Creator of the universe isn't quite finished with you and your ministry here on planet earth! I pray that you and your team have a Happy Thanksgiving! We have a daughter, Marlena, who is presently serving in Malaysia and has never been away from home for Thanksgiving…she is exactly where she needs to be at this moment in time. Tommy, thank you and your team for your service/ministry…

How Great Is Our God!
Great is the LORD, Almighy whom we serve! He's omnipresent! He's presence goes ahead and covers HIS children who faithfully obeyed HIM and follow HIM wholeheartidly.
See, how the LORD showed HIS power! GOD's children are under HIS protection everytime, everywhere!
As we keep on following JESUS,we are under HIS care…and nothing to fear!
Praise GOD for your life Tommy and the company.HE'd never brought you in a terrifying story, but indeed HE is making a glorifying story.HE's making your testimony more stronger and effective.Glory to JESUS!

Oh my goodness. God is amazing.

What an amazing testimony!Just like the one of my 11 year old granddaughter who was just hit by a car and the Lord spared her life.Also, Jim, may God have mercy on you to learn for yourself that He certainly is real before you discover the truth too late to profit from it,

Awesome story! God is so amazing. I believe that sometimes we go through things just so God can show others just how powerful he really is. I am so happy that everyone was ok and has recovered.

Thank you for sharing Seth.
Subscribe to Radical Living:
Receive updates on the latest posts as Seth Barnes covers many topics like spiritual formation, what if means to be a christian, how to pray, and more. Radical Living blog is all about a call to excellence in ministry, church, and leadership -as the hands and feet of Jesus.