There is a war for souls going on
Here begins the first day of A Warrior's Journal. I'll continue these excerpts for the next few days. They are a little long. I'm doing in this in part for the discipleship experiment I started at the beginning of the week. I'll report on how that's going next week and will return you to the norm…
Here begins the first day of A Warrior's Journal. I'll continue these excerpts for the next few days. They are a little long. I'm doing in this in part for the discipleship experiment I started at the beginning of the week. I'll report on how that's going next week and will return you to the normal blog entries.
Day 1: There is a war for souls going on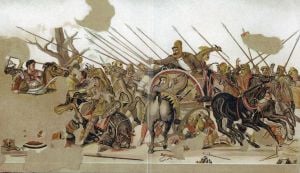 Bible Reading:Ephesians 6:10-20
Faith in Action
INDONESIA – Worker Encourages Christians to Love Enemies
Amid recent violent religious clashes in Ambon, Indonesia, an Assemblies of God worker from a nearby island is teaching believers to show kindness to their enemies. Ambon, capital city of the Moluccas, has been at the heart of the islands' conflict since it began in January 1999.
Two million people live on the 1,000 Molucca islands. Fighting between extremists from religious factions has left 10,000 dead and hundreds of thousands displaced.
"As Christian refugees are provided with housing, food and education, my desire is to help them realize the importance of doing the same for members of the opposing religion," the worker said. He has made three trips to Ambon to minister to the people.
While Christians in the region think compassion for their enemies is the biblical thing to do, many have found it difficult to care about opposing groups who have also suffered loss. Political upheaval also threatens to interfere with compassion ministry. "Truckloads of jihad warriors come from all over," he said. "They are Al Qaeda-trained fighters who encourage acts of terror against Christians. Their goal is to 'cleanse' the area of anyone opposed to their religion."
Religious groups now further segregate themselves – Christians wear red and others wear white.
They even have separate shuttle boats to get from island to island. The worker maintains the only way to end fighting is to offer compassion assistance to all the hurting and displaced, from both religions. "The government can't do this, the military can't do it, and we can't expect the other religious group to do it," he said. "It's up to us as believers."
SOURCE: 3/22/02 Assemblies of God News Service (www.ag.org)
* * * * *
1 Chronicles 11:2 "In the past, even while Saul was king, you were the one who led Israel on their military campaigns…"
In the time of David, Palestine was a brutal place. 1 Chronicles 20:1 tells us that it was common practice for kings to go off to war when the weather warmed up in the spring. During the winter they would repair their walls and their armor, then off they would go. Battle was a constant. Life was short and filled with mayhem.
In 2001, we saw an example of this kind of warfare in Afghanistan. America responded to the 9/11 tragedy by bombing the Al Qaeda terrorists, and the world watched as local chieftains switched their area's loyalties, depending on who seemed most powerful. They had trusted the Taliban and suffered for it.
There was one man capable of uniting them all: General Massoud. He had successfully led their military campaigns and had rebuilt their communities. He was beloved by Afghans and feared by the Taliban. But he was assassinated by the terrorists simultaneously with the attacks on America.
King David was a charismatic leader like Massoud. After Saul's death, he was the one the Israelites turned to for leadership and protection against their enemies. Saul's lack of trust in God had landed the Israelite people in a horrible situation; it was David's responsibility to regroup and prepare them to face their foes.
Such victory over his foes was a task that was too great for David – there were enemies all around him, and no allies. Yet he knew that God had chosen him: there was no plan B… he was it! And so he cried out to the Lord.
"Keep me as the apple of your eye; hide me in the shadow of your wings from the
wicked who assail me, from my mortal enemies who surround me" (Psalm 17:8-9).
With such a prayer on his lips, David chose to boldly move forward into battle, not trusting in his own strength, but knowing that the God he served was powerful enough to bring victory even though he was outnumbered and faced a stronger enemy. Situations like these enabled David to proclaim, "Some trust in chariots and some in horses, but we trust in the name of the Lord our God" (Ps 20:7).
Indonesia holds up an example of Christians who are living today with the boldness and trust of David. They face insurmountable odds and incredible danger in order to live out and share their love for Jesus. Their enemies are using violence to oppress them, and the needs of the masses in poverty around them seem insurmountable. Yet they fight to be bold in the face of danger, lay their lives on the line, love their enemy and share all with the poor among them. Such boldness in the midst of the struggle can only come from trusting in a God who is bigger than the mightiest of enemies- just like David did. Our Indonesian brothers have faith that the persecution they endure will build the Kingdom of God.
Although we often fail to realize it, we are in the midst of a battle just as intense as any David faced, as intense as any physical battle in the world. But Ephesians 6:12 tells us our warfare is spiritual, not physical; it is against "the powers of this dark world" that seek to blind the eyes of the world to the gospel. God gives us graphic examples of battle in scripture in part so that we might understand how to engage in this spiritual warfare. Tiny Israel and her leaders were not so strong and powerful (in fact those times when they trusted in their own strength, they lost). However, when they won, it was because they trusted God. We learn from these stories how to be bold, fighting out of courageous trust in the power of the Lord.
Lives are at stake around the world. People's eternal fate hangs in the balance as the battle rages around us. Like David of old, like persecuted Christians all over the world today, we must trust the Lord and take on the enemy. There is no plan B.
Questions
1. When have you personally experienced spiritual struggle? How did you deal with it?
2. When have you recently felt like you've got enough problems of your own without having to worry about others? How would God have you respond to such a feeling?
3. Do you want to be better equipped to fight your spiritual enemy? What will you do to become equipped and how will you use this to fight?
4. What can we learn from David about how to engage our enemy?
5. What lessons can we learn from the boldness and faith of our brothers in Indonesia? How will you apply them to your life in the next week?
Application
Ask: "Show me one example of the spiritual battle that is going on around me.
Lord, what do you want me to do about it?"
Listen: Write down what you perceive Him to be saying.
Obey: What will you do?
Evaluate: What happens as a result?
click here to go to the next Warrior Journal entry