Back home now. Again I say, "We are so blessed here in America." But what does that mean? We have food on demand, space to breathe, paved roads, internet that works, and it goes on and on. The paradox is that daily we struggle to find happiness. In contrast, so many Haitians seem to find contentment in the midst of their poverty.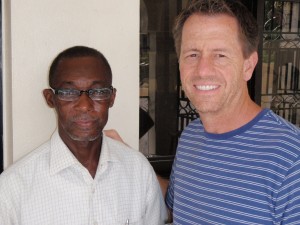 the afternoon was one of the highlights of our trip.
i've brought along the teaching pastor from my church –
ed noble
– with the hope
that we would enter into a church partnership with a haitian church. ed
had met several pastors during our time here; but many of them didn't
quite feel like the right fit.
for whatever reason, even though we were
both open (even desiring), we'd gotten to our last full day without a
partnership that seemed like the right choice. ed and i touched base
yesterday morning, and we both had a sense about pastor edouard (we've
joked that it was because they have the same name). he was clearly a
godly dude, with wisdom, and a heart for his community. so we asked if
the AIM staff could have him come over to the AIM house where we're
staying.
our meeting was stunning. it was one of those rare moments where
god's presence was obvious. i teared up several times, just from the feeling
of the meeting.
pastor edouard is in his upper 50s. he's been around the block, and
has the wisdom that comes with that turf. he directly leads a church in
carrefour,
just SW of downtown port-au-prince. but he also oversees 10 other
churches spread around haiti. he has a rich, holistic passion for the
people of his community (for example: he paid for and ran a free medical
clinic in the community for years; unfortunately, while he's continued
to pay the rent on the space, he hasn't been able to have it open for
three years, because he can't afford to pay a doctor or buy
medications).
ed (noble, that is) talked passionately about us wanting to serve
pastor edouard's vision, not the other way around. in order for this
partnership between our churches to be beneficial to both churches, we
have to follow their lead, and we need to learn from them. edouard was
gracious, and sometimes very quiet (particularly when he was emotionally
moved); but he's also very passionate, and (thankfully) stood his
ground about what would really be helpful and what wouldn't be (one of
the cautions we've had to sort through here is that the church leaders
are so thankful for any help, they'll quickly agree to any suggestions
we have).
i'm hoping (and expecting) this will develop into a long partnership
between our two churches. we outlined four specific projects/ideas
where we might start engaging (i'll not list those all here, as i want
ed noble to be able to process them with our church first). these will
certainly include regular communication for prayer (us praying for them;
them praying for us), supplies and funds for specific projects we're
agreeing on, and groups of people from our church going to haiti to
help. there's even talk of pastor edouard visiting our church at some
point, which would be wonderful.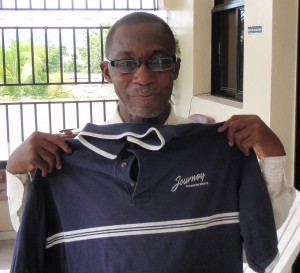 we had a rich time of prayer together at the end of the
meeting. edouard's prayer for us and the people of journey community
church had my heart in my throat. and, possibly my single favorite
moment of this entire trip came when ed ran upstairs and grabbed a polo
shirt with our church's name on it and gave it to pastor edouard.
his
face completely lit up, and he jumped up and down a bit, raising his
hand in the air. it felt like that was the moment when, for pastor
edouard, this partnership became real.
if you would like to have your church explore a partnership like
this, check out AIM's church to church
program. click the same link if you'd consider supporting our
effort to raise funds for 3 haitian leaders to oversee this program and
all the work involved in communication, discipleship, and
accountability.