This morning: update on persecution in India
Dr. Samuel Thomas' wife, Shelley, wrote me this morning: "I spoke with Samuel after his arraignment and he was okay at the time and he was in good spirits. He is supposed to be under protective police protection as per order of the National Human Rights Commission. They ordered the local po…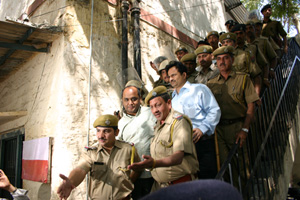 Dr. Samuel Thomas' wife, Shelley, wrote me this morning:
"I spoke with Samuel after his arraignment and he was okay at the time and he was in good spirits. He is supposed to be under protective police protection as per order of the National Human Rights Commission. They ordered the local police to personally be responsible for his safety.
Monday will be the bail hearing in Kota( which will be rejected) and then it will kick up to the Jaipur Court along with the other cases that are supposed to be heard on the 22,23 and 24th. At the very least it would be good if the cases could be transferred to Delhi as there is a stronger possibility for a fair trial in each case. Please pray for Samuel's safety every time he is transported from the jail to the court, there is a very high risk of harm during that time. www.Persecution.com has regular updates.
Comment
we heard you have faced more problems ple let s know
pet
Subscribe to Radical Living:
Receive updates on the latest posts as Seth Barnes covers many topics like spiritual formation, what if means to be a christian, how to pray, and more. Radical Living blog is all about a call to excellence in ministry, church, and leadership -as the hands and feet of Jesus.