Training conference finishes its first week
Tomorrow, we complete our first week of training camp for the 150 World Racers and FYMs who will spend a year on the field. In the last three days, they've had a number of team builders like ultimate frisbee on our lawn and canoe and kayak races on the lake. They've be…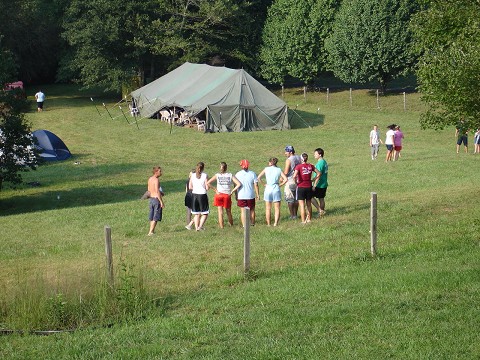 Tomorrow, we complete our first week of training camp for the 150
World Racers
and
FYMs
who will spend a year on the field.
In the last three days, they've had a number of team builders like ultimate frisbee on our lawn and canoe and kayak races on the lake.
They've been trained in different ministry skills, and have received hours and hours of one-on-one counseling.
At night, they debrief the day as teams around camp fires.
This afternoon, we had ten counselors praying for a long line of participants. At present, Gary Black is challenging them to respond to what God is doing around the world during the evening meeting.
The point of all this is to prepare them to do what World Racers like Chad are currently doing in the field. Here he reports on this week's ministry in Uganda:
"As we past open jungles I felt the Lord ask me if I believed that we where going to see salvations.
"I told the Lord that I truly believed with all of my heart that we were going to see the greatest miracle of all – salvation!
"We pulled into a remote village deep into the jungle of Uganda and the sliding door opened on the van.
"As soon as my first foot hit the ground. an older lady by the name of Lucy said through our translator to me: 'I have heard about Jesus Christ and I want to accept him into my life as my personal savior.'
"I actually froze on the spot and started to laugh. She wasn't joking around. I could not believe what I was hearing. "I then began to take her through the Gospels to inform her of this decision because this was going to be the biggest decision of her life.
"She was ecstatic and accepted Jesus with great joy.
"There were actually 6 people that accepted Jesus Christ into their hearts."
Before Chad's day was done, 30 people had given their hearts to Christ.
This is the kind of fruit those we are currently training expect to see on a routine basis!
Subscribe to Radical Living:
Receive updates on the latest posts as Seth Barnes covers many topics like spiritual formation, what if means to be a christian, how to pray, and more. Radical Living blog is all about a call to excellence in ministry, church, and leadership -as the hands and feet of Jesus.