Waiting on God to speak
A few years ago we were praying with a friend of mine who was troubled. He had gone through a hard time in his life. The pain of divorce and layoffs left him feeling far from God. I didn't have any answers for him, though it was tempting to try to give him the thin gruel of …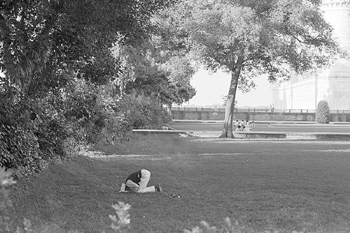 A few years ago we were praying with a friend of mine who was troubled. He had gone through a hard time in his life. The pain of divorce and layoffs left him feeling far from God.
I didn't have any answers for him, though it was tempting to try to give him the thin gruel of trite encouragement that such moments always seem to prompt: "It's OK, things are going to get better. You'll see better days, yada, yada."
Actually it was better to just ask God a question, say nothing more, and wait for him to speak. One of the things I believe, based on my experience and subsequent search of Scripture, is that God speaks to us in ways that connect with us at a deep level. In ways that when we're needy, can explode in our soul and re-awaken us to the fact that he loves us.
So, my friend asked God, "Lord, is there anything you'd like to say to me?" And we sat there in silence, waiting for what he might say.
It was a bold, potentially reckless thing to do. What if God didn't show up? What if all we heard was silence? What if the cynics were right?
The cynics had been the only voice my friend had listened to for quite a while – they had had their say. Faith is the substance of things hoped for. So, we hoped and waited.
And as we waited, my friend began to cry. We let the moment linger and then I spoke.
"What did he say?"
"He said, "I've missed you."
And that was all he needed to say. It said everything.
It said, "I created you to be in relationship with me."
It said, "Where have you been?"
It said, "I love you."
Isn't that the cry of all of our hearts? Don't you long to hear that from the Almighty? We go wandering in dry and lonely deserts, thirsting for living water, and when we finally grow sick enough of the wandering to wait on God, his tender voice overwhelms us.
If you feel like my friend (and who doesn't from time to time), my counsel is, take the time to go to some quiet place* – maybe a forest, maybe a closet – and ask him if he has anything to say. Maybe ask him the question, "Lord, what do you think about me?"
I'm betting that he's missed you and you'll find him waiting for you there.
*Take a Bible and a journal and maybe a list of questions.
Comments (8)
So simple, so true. Love ya

Really good Seth. Thanks.

Yeah! All of my runnings-away-from and whinings might just lead back to this… Thank you again Seth!

Wow – this is SO powerful.

I SO love how you gently handled your friend… it speaks volumes about the tenderness of your own heart to God and to being His compassionate witness in the world.

Your gentleness w/your friend brought tears to my eyes. Thanks for the reminder to me today about how God calls us to care for others 🙂

Just wanted to say thanks- in general

Thank you Seth. I wept when I read this.

Powerful words yet such a wonderfully simple reminder. Thank you for sharing it with us.

This is so good, Seth. Reminds me of the breakthru weekend I was at, when we were bussed over to that park on the lake and told to be silent and allow God to speak into our areas of pain and grief. That remains the single most pivotal moment in my journey thus far…Thanks for bringing it to mind today, I needed it!
Subscribe to Radical Living:
Receive updates on the latest posts as Seth Barnes covers many topics like spiritual formation, what if means to be a christian, how to pray, and more. Radical Living blog is all about a call to excellence in ministry, church, and leadership -as the hands and feet of Jesus.