Welcoming new people into your family
Our friends already knew and loved Joe Bunting (Talia's future husband). We'd welcomed him as an honorary family member last Thanksgiving. It was not hard to celebrate the easy way that he complimented her. But with the wedding approaching and his parents visiting us, it was time to …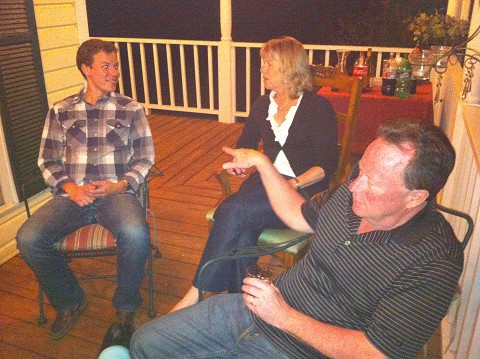 Our friends already knew and loved Joe Bunting (Talia's future husband). We'd welcomed him as an honorary family member last Thanksgiving. It was not hard to celebrate the easy way that he complimented her.
But with the wedding approaching and his parents visiting us, it was time to introduce them to the unofficial extended family. The porch party last night brought together the two groups to see what they thought of each other.
People can get into your family in two ways – they're born or adopted. And I'm not just talking about babies here. Over the years, we've adopted a lot of folks into our family. We have a large assorted group of uncles and aunties who have joined our family. We take them into our hearts and ever after they are free to join us for holidays, parties and significant events.
My girls are especially good at creating a place in the family for folks. The time that it takes for Emily to make you an honorary family member is far shorter than for most people.
Although they're positioned to join your family, a lot of in-laws never do get adopted in. The "Meet the Fockers" experience makes for a good movie because it is potentially so awkward. Robert DeNiro's character describes it in terms of the "circle of trust" around the family. Within that circle of trust, all kind of idiosyncratic behavior is considered normal. Watching uptight Americans bringing their bundt cakes to an anything-goes Greek party is good for the box office.
Families develop ecosystems over time and immune systems to protect them. Some go dysfunctional and hide their pathology with a web of secrets. But most just develop benign habits that the outside world might raise an eyebrow at. The second day in the Barnes house, Karen invited the Buntings to get into their pajamas so we could play a rousing game of Settlers of Catan. That's the low-key, "just folks" environment we have around here.
Most of us seem to intuitively grasp that in this rough-and-tumble world of ours, we need more people who accept us for who we are and find life within the walls of our homes. And that's why we need to work at the business of adoption by actively recruiting and welcoming more family members, the same way God worked at it with us.
Given the odds against it, adoption is a kind of a miracle. Last night not only could we celebrate the warm spring weather and
the fellowship of friends. Perhaps the happiest fact we had to celebrate
was that the Joe's parents were an easy fit in our extended family.
Comments (4)
So happy to hear the party went well. Can't imagine anything but at the Barnes ranch.

What a blessing! I am an only of two onlies and would love to become an adoptee of your family…It sounds like you have all been blessed with the gift of hospitality. Peace.

We are happy to konow that my father is going to marriage their Children and we will be praying for my sisters and daddy you and mama Karen.May God bless to all of you.Emmanuel Sadiq

I love being an adoptee of your family Seth. It's interesting that I first met you at your family reunion, the same time I met Talia. You Barnes' do have a gift for making people feel like part of your family. And I know my parents felt the same.
Subscribe to Radical Living:
Receive updates on the latest posts as Seth Barnes covers many topics like spiritual formation, what if means to be a christian, how to pray, and more. Radical Living blog is all about a call to excellence in ministry, church, and leadership -as the hands and feet of Jesus.