What does a disciple look like? Jeff Goins
I have several married men and about five young men whom I disciple – Jeff Goins is one. (Incidentally – I count on them to seek me out – I can't track them down. You should never expect someone discipling you to do that. They're your discipler, not your social secretary). Jeff reminds me a lo…
I have several married men and about five young men whom I disciple – Jeff Goins is one. (Incidentally – I count on them to seek me out – I can't track them down. You should never expect someone discipling you to do that. They're your discipler, not your social secretary). Jeff reminds me a lot of myself at his age. Here's a blog he wrote about himself.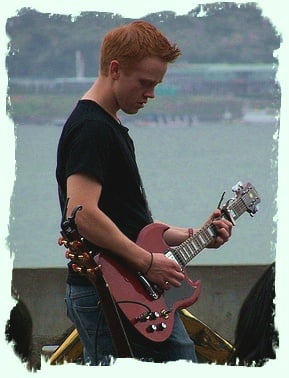 I was raised in a nominal Christian family; so, we went to
church when we felt like it. Absolute
truth was a foreign concept to me; the Bible was just one other person's
opinion, and obedience to it was a special burden reserved only for "Jesus
Freaks." I was too smart and too free to
let religion tie me down; it was a comfort to have around when it suited my
interests.
After a year of really searching
for life (through parties, drinking, girls, etc.) and coming back thoroughly
disappointed, I returned to simplicity.
Was God really who he said he was?
After a night
drenched in sin, the Lord tugged on my heart so fiercely that I broke.
Through tears of joy on a twelve-mile stretch of road I will never
forget, I finally submitted to
the Holy Spirit, whose presence I physically experienced entering my
body, and
allowed him to guide my life.
After graduation, I joined CTI Music Ministries, where I
traveled with a Christian band for a year. We spent a month-long tour in Taiwan, where I
was given an inside look into what God is doing in China, and how he's using
that small island to train and launch missionaries with a heart for the
mainland. It was confirmation that I was
going in the right direction and that there was purpose for the turns my life
had taken so far.
Currently, I live in Nashville, TN. I was led to Adventures in Missions a few years ago when I was
looking into being a Spanish translator for short-term trips to Mexico, but I
never went. The result was a frequent
eye on the organization, following various projects.
I finally contacted Seth
Barnes, executive director of AIM, in the summer of '06, and we started dialoguing about a possible staff position
for me. After a few months of
brainstorming and vision-casting, I visited Gainesville during the time of the World Race
training. Seeing "the perfect church"
assembled there really awakened something in me—a desire to be part of
something great, even if just in some small way, that will impact the world for
the Kingdom of God.
Comments (2)
hm. I thought I was his biggest fan.

you have taught me so much this past year, seth. thank you. you, too molgard. i hope both of you will be in my life for a long time to come.
Subscribe to Radical Living:
Receive updates on the latest posts as Seth Barnes covers many topics like spiritual formation, what if means to be a christian, how to pray, and more. Radical Living blog is all about a call to excellence in ministry, church, and leadership -as the hands and feet of Jesus.