What responsibility do we have?
Pakistan is a country that many Americans consider unsafe. We know what happened to Daniel Pearl there. We are wary. So what do you do when you hear reports of up to 16 million homeless people in the wake of the massive floods that have hit there? What responsibility do who …
Pakistan is a country that many Americans consider unsafe. We know what happened to Daniel Pearl there. We are wary.
So what do you do when you hear reports of up to 16 million homeless people in the wake of the massive floods that have hit there?
What responsibility do who follow Jesus have to try and help?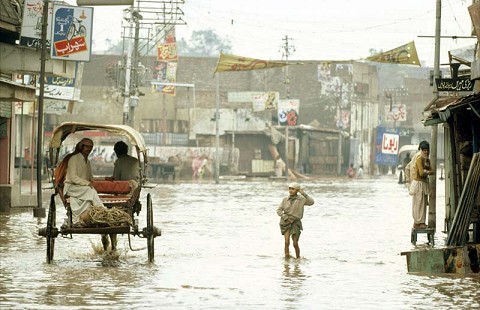 Comments (11)
The only responsibility we have will be the ones Jesus died for.

Jesus died for everyone, whether or not they accept the gift of salvation. I believe Christians should be a light of love and compassion for all of the human race, not just the ones who will end up in heaven. My God did not say to care for the widows and orphans, but only the ones who have accepted Christ.

This is a problem with the church–and Christians–of today. So many churches and Christians walk around with their noses in the air, like we're special and better than everyone else, full of judgement and pride. I don't think that brings glory to anyone, least of all to the Father of agape love.

Sorry to have to say it, but Erin's comment above is correct, though it is only partially true. Like with every other issue on the planet, public perceptions of Christian philanthropy and mercy are based on old stereotypes.

But hey, our Lord himself was misunderstood and misinterpreted in the same way when he walked among us.

I do appreciate outfits like AIM that put shoe leather on our responsibilities as Christians to a needy world. You are slowly revising the old 19th century missionary model, to include other functions besides just preaching at folks.
And Franklin Graham, who took his father's good-news precedent and propelled it to a higher, and more effective, strategic level.
Our mission on this earth is not just about John 3:16. It also includes Matthew 25.
You AIM people keep up the good work; do not be dissuaded from your calling. And if the leading of the Holy Spirit directs you to Afghanistan to do flood relief, then…
more (of His) power to ya!
Maybe the Lord's mercy, as carried out by his ambassadors, can win the struggle for the hearts and minds of Afghans–a war that military might could not ensure.

Oh, pardon my blooper. In the above comment, I referred to Pakistan as Afghanistan.
There I go exposing my typical, cocky American know-it-all confusion about the other peoples of our wide world.
Pakistan, the Indus River…

Erin, yes Jesus died for everyone. I believe that was Butch's point. He wasn't being exclusive.

I had a interesting thought about this that reminds me of some conversations led by missionaries around the world from my perspectives class. http://www.perspectives.org/site/pp.aspx?c=eqLLI0OFKrF&b=2806295
America might be screwy, we Americans might have more than enough ego, we are not the richest country in the world but we are the most generous nation of givers to other countries. On that note, if we do not contribute towards Pakistan I'm curious if there will be a significant, noticeable loss felt? Will anyone ache, wishing America would come to the rescue? Perhaps the results of a lack of economic aid will resemble our contributions towards Africa where plenty of the donations are confiscated by their governments, never reaching those intended.

If God brings any of us to that country, I am also reminded of a lecture given by Brother Andrew. When asked if he was afraid after being captured by the Taliban he said, "When you love your enemy they cease to be your enemy" This was a crowd husher of a statement and it continues to run through my mind even years later. http://en.wikipedia.org/wiki/Brother_Andrew

If he says Go, we go. And we must pray & listen & love. Butch nailed it.

Dear Daddy Seth,
Thanks for your all prayer and love for my nation Pakistan.
We are collectings things from our chritsian community people and then we will go there and help them.
We love you so much.
God bless you and all your mission work.
Emmanuel Sadiq.

We are asking oursleves what he would have us do? Waiting to hear today. Just not sure yet, so will keep asking. Honestly, I feel so bad, that we as Christ-followers have no clue at times as to what is going on in the world. I am so ashamed that we are so sinful and are so caught up in our own lives. Thanks Seth and other Christ-followers, for keeping us up-to-date on what is going on in the world. I know we are so self-absorbed. Today when I saw a homeless person what I recalled was something I heard from Tom Davis last night at our church. Act justly, love mercy, and walk humbly and so that is how I responded to this young man who was homeless. ACT JUSTLY, LOVE MERCY, WALK HUMBLY is so full of who Christ is and wants us to be. Now if we can just take that to a place like Pakistan next. Just honestly, not sure how to do that sometimes. God show us!

There are some Christians who believe that God created some people for judgment. I know more than a few of them and I can say that, at least the ones I know, they believe this not out of pride or arrogance, but out of theological conviction as they diligently study the Scriptures. They are still merciful, loving people and it is this conviction that drives them to share the Gospel because we do not know who is going to be saved or not, we are not to be the ones to make that judgment- all we are called to do is to fatihfully preach the Gospel so that everyone has an opportunity to hear about Jesus.

For Pakistan, we must pray that the Lord would provide, physically and spiritually, then keep our hearts open and sensitive to His leading and do whatever He is leading us to do. If that means only sending money to help, along with committed prayer, or being a worker to travel there to help rebuild their lives.

We have no rights.. We are all too awesome for that!!
Subscribe to Radical Living:
Receive updates on the latest posts as Seth Barnes covers many topics like spiritual formation, what if means to be a christian, how to pray, and more. Radical Living blog is all about a call to excellence in ministry, church, and leadership -as the hands and feet of Jesus.