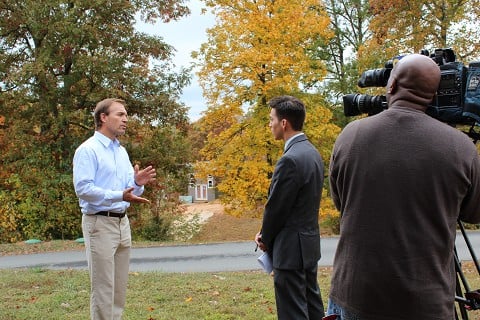 Yesterday
ABC News interviewed me
about the Haiti orphan situation and our
petition
that the IBESR (Haiti's social welfare agency) be investigated for corruption.
Great news: Your voices have been heard! Yesterday the Haitian government removed the head of the IBESR from her position. More details to come in a future post.
It's a crazy world. I'm glad many of you care enough to make a difference where things are really broken. Many of you have been wrecked for the ordinary, and situations like this give you a way to plug in.
Some of you have been on the World Race and have been wrecked. But when you finish it,
returning home can be hard. We've wanted to do more to help, and that's
why we created
Project
Searchlight
– a week that helps answer the question, "What do I do next?"
A few weeks ago we conducted our second
Project
Searchlight
for 35 World Race alumni. Although it costs a lot to put on, we offered
it free. It was such a success that we are planning the next one January 6-12 in Gainesville, GA. We are hoping for 100% attendance for the T, U, & V squads that finish in
November (and at the same time, it is open to all racer alumni). Already one of the squads has 90% signed up.
Why go? Here are some reasons:
To have an awesome party with your squad and coaches
To develop a re-entry plan and tap into a network of contacts
To clarify what you're passionate about and be working on your dream
To experience a week of community and worship
To clarify your gifts and talents
To receive teaching, training, and coaching from a group of experts
To connect with business leaders, missionaries
To tap into the WR alumni network
We've designed Searchlight to be the perfect way to help make sense of the last year and move into the year to come.
If you're an ex-racer, or are graduating from the race this
November,
email us
at and we can tell you more. Or if you have the time,
reserve your spot
.
Some Searchlight reviews
"Searchlight was an excellent week of teaching, training, mentoring, networking, and fun." – Joni Viets
"Searchlight was incredibly encouraging and helpful in me refining my dreams and how to pursue them." – Brian Barrett
"It was an incredible experience! DO IT!!" – Amy Duncan
"It was great and I highly recommend it." – Emily Fagerstrom
"I really wish they had Searchlight 4 years ago when I got off the Race." – Ryan Stewart
"It is amazing, yet challenging, so follow God on His leading!" – AJ Wagoner