When life beats you up and you want to quit
My heart is breaking this morning. I'm wrestling with two things that just happened: First, one of my coworkers made a terrible mistake and overnight has lost his reputation, putting 15 years of ministry in jeopardy. Our team on the ground is scrambling to deal with all kinds of crazy allegat…
My heart is breaking this morning. I'm wrestling with two things that
just happened:
First, one of my coworkers made a terrible mistake and overnight has
lost his reputation, putting 15 years of ministry in jeopardy. Our team
on the ground is scrambling to deal with all kinds of crazy allegations
and are looking for leadership. I'm
seeing how quickly what you do over a long period of time can
evaporate.

Second, I just got this email from Gary Black in Swaziland about a baby
that Seth Jr.'s team had been caring for (see a blog about it here):
"The baby died this
morning at 5:00 am… I took
the team over; Aaron and Tracey went down with Pastor Gift to tell the mother, but
they are afraid this will kill her as well… I will keep you updated."
My son's
team had been caring for the baby since finding him and his mother near
death last week. They are devastated (see their heart-wrenching posts here and here). This is so hard. It causes me to think about the big picture
of what we're doing. Can short-term
missions even make a difference, or are we kidding ourselves much of the time? I'm
going to take a closer look at the subject later in another blog, but
right now
I'm just too beaten up to do much.
I'm tired of ministry and thinking
about asking God for a way out. There are a hundred other things I
could do well. The thought comes to me: maybe there's someone who can
do what
I do better. Someone with fresher legs. I can't give up on the orphans
or on discipling, but today the burdens of leadership feel overwhelming,
and I can't do anything but be honest about it.
This kind of thing has
happened before, and I always came back and answered the bell. I know
I'll do it again tomorrow, but if it weren't for my sense of calling, it'd
be impossible. Heaven knows that our leaders hide this stuff most of
the time when the reality is that 99% of humanity is struggling with their
own sense of inadequacy.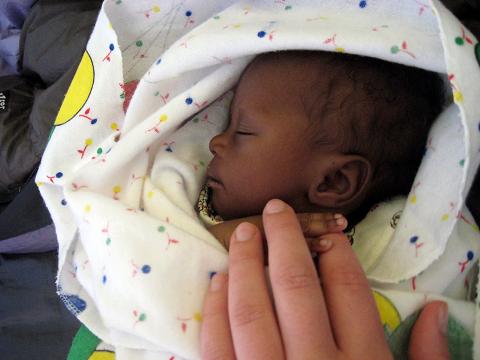 Comments (33)
Seth, my heart aches for you… for all of you… and my prayers are reaching out on your behalf as we speak… I think of the man who couldn't reach Jesus… so his friends climbed onto the roof, tore a hole in the roof, and lowered his pallet down to Jesus' feet… my prayers, and the prayers of us all, are carrying you, the ministry, Baby Moses mother, the Racers… all of you… we are carrying you on blankets of prayer to the feet of Jesus…

My wonderful husband says of hard times… it is what it is… and our part is to respond to whatever trials we face in the way that will most glorify God…

It's okay to be weary in the face of the storm… you're just a child… but you are His child, and His strength will get you through even tho you can't see the sunlight through the clouds just now…

I'm praying, and praying and praying…

We love Him, we trust Him, we know Him on whom we have placed our trust… and He will turn even these heartaches to our good, someway, somehow… I don't know what will happen… or what is happening… but I do know who is in control… and I trust Him…

He loves you, Seth… Seth Jr… all of you… and I do, too…

Thank you for being real! Thank you thank you.

Seth – So sorry to hear about these circumstances. I can't pretend to know what the best decisions are for you in these matters, but know that I'm praying for you and your team to continue to find strength in our Lord.

"Let us not become weary in doing good, for at the proper time we will reap a harvest if we do not give up. Therefore, as we have opportunity, let us do good to all people, especially to those who belong to the family of believers." Galatians 6:9-10.

Hi Seth,

We know that God is in control of all things. There are things that happen on this side of heaven that we will never understand. It is a reminder that this is not our home.

It's at times like these where words fall short and comfort can only be found in the arms of our Jesus.

Run to him and cry out. He is right there beside you. His tears are your tears and your heartbreak is His…

Even though this little boy was here for such a short amount of time, and there is so much injustice in this situation, never question or negate the value of one life.

God is using Seth Barnes to touch lives. He has called you to be His hands and feet.

BLESSED ARE THE FEET THAT CARRY THE GOOD NEWS!!!

Praying for you.

Praying you through this valley.

For we are to God the aroma of Christ among those who are being saved and those who are perishing. To the one we are the smell of death; to the other, the fragrance of life.

AND WHO IS EQUAL TO SUCH A TASK?

Unlike so many, we do not peddle the word of God for profit. On the contrary, in Christ we speak before God with sincerity, like men sent from God.

Grace time Seth. We're praying for you and these concerns.

Child of God,

Surely the Lord knows what you are going through at this very time. Perhaps you were created to serve in Africa for such a time as this? (Esther 4:14)

I know without a doubt that God is proud of you. He is singing this song over you right now(Zeph 3:17):

I love you, I love you my son.
I love you, all of you who come.
I just want to wrap you in my arms.
And tell you that you are Mine.
Because I love you, I love you my son.

Therefore, do not be discouraged, but take heart, for the Lord your God is with you (Deut 31:6).

John 12:27-28 (The Message)

27-28″Right now I am storm-tossed. And what am I going to say? 'Father, get me out of this'? No, this is why I came in the first place. I'll say, 'Father, put your glory on display.'"

May our God pour out His infinite peace over your body today.

For His Glory,

-Gerrid

Maybe it's like the time when Moses's father-in-law showed up and said, "You're crazy. You're doing too much." You totally have a purpose in ministry and AIM is a beacon. But maybe a shift in responsibilities and delegation is in order. I don't know what the situation is, but that's the thought that comes into my head.

TeamLESS set-out yesterday from Mozambique back to Nsoko so reinforcements are on the way… even without knowing they are needed.

Please let us know if and when there will be any sort of burial service. I'd like to be in prayer for and with our Racers during that time as I am now.

A wise person responded on one of your recent blogs about looking inside the story and finding the presence of God. His hand is all over this.

Praying,
Pat

Seth, I am so sorry to hear that baby Moses died. I know the WR team had poured themselves out to that family. I'll be hurting with you and the Black's as well as the WR's. I'll be praying for wisdom with the mother. God will hold you all through this.

Seth

As I read your transparent words, I was reminded of hearing and westling with the same thoughts recently… You are the will of God bro. . Never underestimate the profound effect you are having on so many.

War on man of God

Hurting with you step by step on this Barnes. Thank God this earth is not our home.

Praying that God would refresh your spirit and bring you hope and healing. I pray you would someday look back on these dark times and see the hand of God at work. It's times like these I most yearn for my heavenly home. Thank you for all you to do to see people develop as disciples of Christ.

Love,

Katherine

Seth, you have been a spiritual father to soo many people. We are all around you, and when your legs become weak, it becomes our job to hold you up. All parents depend on their kids at some point. We are in this together, and we stand together.

grace and peace to you seth.

Thank you, folks, for this wonderful outpouring of love and encouragement. It's gotten me thru this day. At the end of the day, I'm constrained by my call. But without my brothers and sisters, it would be exceedingly lonely and overwhelming. God bless you all.

wow. what tragedy these racers have seen.

i love you daddy, I'm sorry and am praying for ya'll and sethie.

miguel, kristen and sammi

may the SOURCE move in your heart providing the comfort, strength, and peace to carry you in the name of JESUS

you've got all we are, and all our love

tara bruce *(WR July 2008)

wow. The story of baby Moses is heart wrenching as well as the one about your co-worker. And, the questions you are wrestling with are definitely tough, but asking the hard questions is always a good thing to do. Praying that God will continue to speak clearly and give you divine wisdom, revealing the mysteries of Himself so that you can continue to inspire and lead others into radical abandonment and devotion. I am constantly inspired by your real and sincere heart spilled out on these blogs. Interceding for you. tara*

Prayers and thoughts are with you Seth – I love that you are able to be so real as you process through things… you are able to challenge others and push me and so many others in our walks even from some of your darkest hours. Let me know if there is anything I can do to help.

Angi Francesco WR July 08

Seth – My heart breaks with yours over these tragedies. Know that you are in my prayers, and thank you so much for sharing your heart, even when it is vulnerable. You are an inspiration and a blessing to us all. Angi

Brother Seth,
Seeing you and yours in this as you've narrated it gives young disciples like me enough reasons to stand strong and march on.
As hard as they come, as hard as you are and as deep as He is in you.
More grace to you for us! Our hearts connect with yours.

Thanks for being real and vulnerable Seth. I know you're feeling a spirit of heaviness and defeat, but I rebuke that defeat in the name of Jesus!

Your calling, your willingness to answer it, everything you've done and the way you've "fathered" so many of us has more of an impact than you may never know. And even when you're feeling weak and defeated, all of us who love you are behind you still, 100%.

Praying for you!!! We'll all work through this all, as a family. Because that's what we are at AIM thanks to you 🙂

Brother Seth,
Seeing you and yours in this as you've narrated it gives young disciples like me enough reasons to stand strong and march on.
As hard as they come, as hard as you are and as deep as He is in you.
More grace to you for us! Our hearts connect with yours.

I'm proud to know you, old pal. M

There was a day I remember vividly before I left on the race that I sat pouring over your blog in tears as I read your heart displayed on a page.

It was through this very blog that God confirmed AIM was legit, that YOU were legit, that God's hand was in this, that I could place myself under this authority and headship and so I applied…and here I am now saying "I've been there and done that" after the race and I find myself once again in tears reading your blog.

YOU ARE A LEADER SETH, and a good one at that.

You have a father's heart that exudes not only from your writing but from your HEART. I appreciate your openness and I love that you share the journey with us all.

You have no idea how impactful your journey has been, your words, your heart. You push us towards a God who is able and you do it first yourself. Thank you for not leaning on your own strength and thank you for being a leader and a father I'd follow anywhere.

My heart hurts with you. I love you so much and am more proud than any other son to call you my dad.

My search is complete i have found what i was looking for. God be with you always!!!

I have been feeling like stepping down from the music ministry I direct at church. I feel tired, unappreciated, and uselesslike nothing I do really matters anyway. But, after reading your blog, I understand that life is just very discouraging sometimes. There are low spots for everyone and quitting won't really make me feel any better.
Thanks for being honest.

Do not give up… Give all your hurt all your stress all your doubt frustration and even hopelessness give it all of it to God.. Just hand it all over to him right now. Its not your burden to carry.. You are the strongest Soldier ever made. You are a soldier of Christ. You are learning how to endure the hardest things in with world to endure and you will make it through cause it is not meant for you to carry. It is meant for you to pass it all over to Christ.. You wake up and start all over again brand new and as it comes you hand it over to God and keep going forward.. You are a soldier of Christ and they don't make them any stronger. I don't have any bible verse to give you like everyone else did. I don't know the bible like I should. I know though that the pains of this world were not meant for us to carry.. Thats Satan doing that to you.. The pains of this world are meant to teach us makes us grow and to be handed off to God. We are his Soldier. We don't have time to get beaten down so make sure all this you feel gets handed over to him.. Hes expecting it and waiting for it so don't take to long in doing that cuz hes expecting you to be strong be his strong soldier winning souls of his children before Satan gets in to deep.. Put your Armor of Christ on and nothing nothing at all can beat you down.. Just keep it on always.. God would never give up and say its to hard. If you know this is what God wants from you then you have no time to be beaten down. Pick yourself up gather your group and start winning this war. Maybe its you who yhe true leader is suppose to be. Maybe this is your test and maybe this is all the event needed so you will take that leadership roll. I have no idea.

My advice is you need to get with God figure out your next move… Don't give up cuz your beaten down cuz thats not a burden meant for you to carry.. You give up cuz God has other plans not cuz its to hard.. What else is there but this? We are soldiers and we do what we know to do and thats win soul for Christ. Satan doesn't a chance.. We will win this war..

Brother Seth, I feel your sorrow and sadness over the events you've shared. Please be encouraged by the words of II Corinthians 4:7-18. I rely on them heavily in times of deep sorrow…while reading and mediating on these words, I am reminded that we do have hope!

"But we have this treasure in earthen vessels, that the excellency of the power may be of God, and not of us.

We are troubled on every side, yet not distressed; we are perplexed, but not in despair; Persecuted, but not forsaken; cast down, but not destroyed;

Always bearing about in the body the dying of the Lord Jesus, that the life also of Jesus might be made manifest in our body. For we which live are always delivered unto death for Jesus' sake, that the life also of Jesus might be made manifest in our mortal flesh. So then death worketh in us, but life in you. We having the same spirit of faith, according as it is written, I believed, and therefore have I spoken; we also believe, and therefore speak;
Knowing that he which raised up the Lord Jesus shall raise up us also by Jesus, and shall present us with you. For all things are for your sakes, that the abundant grace might through the thanksgiving of many redound to the glory of God. For which cause we faint not; but though our outward man perish, yet the inward man is renewed day by day. For our light affliction, which is but for a moment, worketh for us a far more exceeding and eternal weight of glory; While we look not at the things which are seen, but at the things which are not seen: for the things which are seen are temporal; but the things which are not seen are eternal."
Subscribe to Radical Living:
Receive updates on the latest posts as Seth Barnes covers many topics like spiritual formation, what if means to be a christian, how to pray, and more. Radical Living blog is all about a call to excellence in ministry, church, and leadership -as the hands and feet of Jesus.