I've started to beat on this drum more lately (see this blog for example) and here I am today going on this man hike in the wilds of New Hampshire, so I'll do it again. Our modern society and Christian culture is disorienting. We guys have got all these issues ricocheting around inside…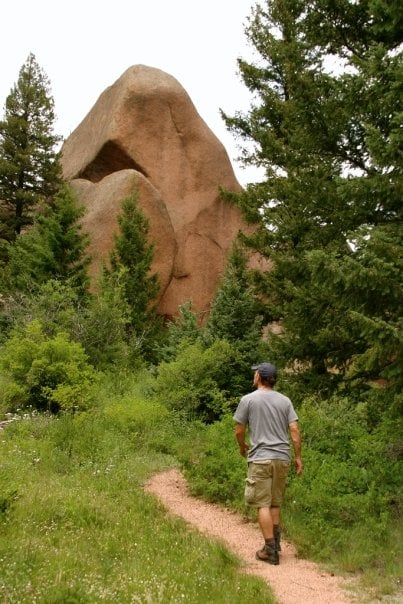 I've started to beat on this drum more lately (see
this blog
for example) and here I am today going on
this man hike
in the wilds of New Hampshire, so I'll do it again.
Our modern society and Christian culture is disorienting. We guys have got all these issues ricocheting around inside, and we don't have any outlets to process them. We're born into a feminized, metrosexual world and condemned for our impulse to carouse, fight, and conquer. It's as confusing as heck sometimes.
Is it any wonder that more and more guys struggle with "orientation" issues? We need to detox from the pressures of life and get perspective. We need to recover God's original design for our lives.
The seven of us who went on a Colorado hike in July found such life in it that we resolved, "We're going to do this again with more of our friends." Thus 11 of us are strapping packs on and hiking around Mount Washington starting today.
I'm the old guy in the group. Everybody else is under the age of 40. My job is not so much to wax eloquent as it is to come alongside the guys wherever they are in their journey and to try to bring perspective. For me it's a form of discipleship – a way to add value to the lives of those who are hungry. You go on these things to let your hair down and open your spirit up.
God put a fighting spirit in us guys for a reason. We're engaged in a spiritual battle where evil often seems to have the upper hand. The media is filled with the negative reverberations of leaders sounding a full-scale retreat. God wants us to fight for the weak – he says true religion is not a Sunday morning church service, but caring for widows and orphans.
Women seem to do that more naturally than men. But it's great to be a fighter and to serve a king and to bring his kingdom. Women stand and cheer when they see men channeling their energies as they were designed to do. It's a brilliant thing to go with the current of how you were made as opposed to fighting against your nature.
My sense is that the average guy needs to do at least one man hike a year. I think these things are going to grow just as the Promise Keepers thing did. It's simpler and way cheaper than a conference. So, if you're a guy or you know a guy who needs to go on a man hike, feel free to write me and we'll let you know when we do one in the future.
Comments (8)
I want in. Please keep me informed.

Love this.
I'm praying for you manly men!

Thanks my thirty year friend for the reminder and the reinforcing message.

Women often hate to hear a fact but it is inscribed in scripture.

When the evil one came to tempt humanity he went to whom?

The feminization of the Gospel is destroying a generation of young men.

And God seeking men on a mission can change the world.

There you go. 🙂

May God meet you all on the mountiantop in a new and powerful way. May He strengthen you all to be mighty warriors for His eternal kingdom. Your man hike will be in my prayers this weekend.

One of the best times I had in Germany was when Dave Hearn organized a 2-day bike trip. We camped and just were stupid. I forget how many of us there were. It was a blast. We should have done it numerous times. I'm not big on the camping but I'd like to know ahead of time when you have the next man hike. Being on a path in the wilderness sounds a lot better than being in a big stadium.

I don't hate hearing those facts. My heart says, "RISE UP MEN OF GOD!" The more the better. We women of God need it.

Man Hike…Carpathians…or Crimea. Hmm.