Winner: Photos caption #4
Wes Nelson: "Pic 1 – I don't think this mail-order bride thing is all it was cracked up to be." Photo Caption Contest Rules: 1. Add a caption as a comment. 2. It can be a "title" for the photo, or a "comment" made my someone or something in the photo. 3. The winner …
Wes Nelson: "Pic 1 – I don't think this mail-order bride thing is all it was cracked up to be."
Photo Caption Contest Rules:

1. Add a caption as a comment.

2. It can be a "title" for the photo, or a "comment" made my someone or something in the photo.

3. The winner is selected by me.



4. The prize for winning is our gratitude for your wit.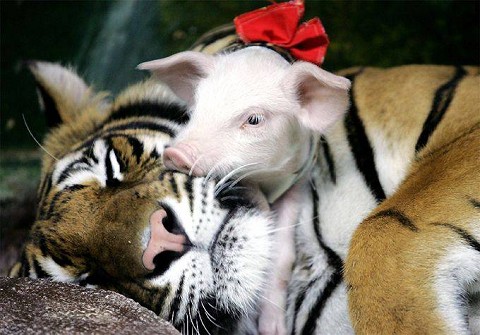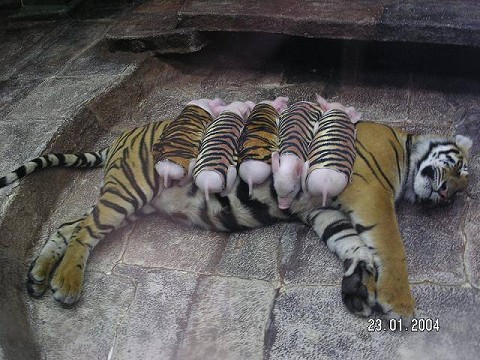 Comments (12)
"Pigs in Tigers stripes"-why let the wolves have all the fun?

First Hell freezes over and now this. What? Are the Saints going to the Superbowl or something?

…and the tiger shall lie with the piglet on my holy mountain.

…this little piggy went to market…this little piggy stayed home…this little piggy ate roast beef…this little piggy had none…and this little piggy said no one squeal or we're all going to give new meaning to this cat's dream of "pigs in a blanket"

You really think he won't notice us if we wear these camouflage disguises?

Pic 1 – I don't think this mail-order bride thing is all it was cracked up to be.

Pic 2 – just shut up and keep eating, it'll be a story we all tell our grandkids…maybe.

1. Mercy

2. Liberals and the American taxpayer

1: "The side-effects of too much catnip"
2: "Proof of effective camouflage"

A case study on whether it is the inside or the stripes which really makes the tiger.

Lol @ Paul and Bob. Although maybe they need a little more of their #1

For both pics:
"Quick guys — I'll create a diversion, you go in for the kill!"

Identity Crisis counseling has been rescheduled to 10am. Lunch will follow promptly at noon.

1. Results of Peer Pressure

2. The game, "I dare you" taken too far!

3. Piglet Fraternity Hazing!!
Subscribe to Radical Living:
Receive updates on the latest posts as Seth Barnes covers many topics like spiritual formation, what if means to be a christian, how to pray, and more. Radical Living blog is all about a call to excellence in ministry, church, and leadership -as the hands and feet of Jesus.