Your Dream Is Trying to Kill You
Joe Bunting is a writer who is pursued by a dream that wants to kill him. I asked him to guest post about that. I have a kingdom dream, but I almost wish I didn't. Having a dream is like climbing K2. K2 is the second highest mountain in the world. Mount Everest is the highest, but Ever…
Joe Bunting is a writer who is pursued by a dream that wants to kill him. I asked him to guest post about that.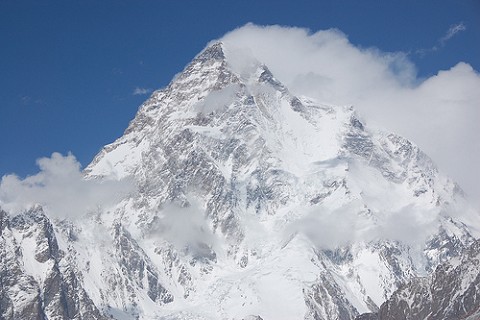 I have a kingdom dream, but I almost wish I didn't. Having a dream is like climbing K2. K2 is the second highest mountain in the world. Mount Everest is the highest, but Everest is easier. They call K2 "the Savage Mountain" because it kills people.
In the summer of 1986, the year I was born, twenty-seven people climbed the 28,000 foot summit. It was K2's most successful year. The first woman also made it, forty-three year old Wanda Rutkiewicz. A few months later, a second woman did the same, Julie Tullis, but she died on the descent.
The American team didn't make it that year. An avalanche killed two, and the rest went home. The French husband-and-wife team, made it, but on their way down they disappeared. Rescuers found the wife's body three weeks later. They didn't find her husband for another twelve years.
Later that year, seven climbers got stuck in a storm at 26,000 feet. Only two made it home, and they paid for their lives in fingers and toes, lost to frostbite. One climber was found a year later by the Japanese team leaning against a rock wall. She was frozen stiff.
1986 was also the most tragic year of K2's history. Thirteen people died for the twenty-seven who made the summit. About one in two.
You dream because you have to. God gives you a vision of you on the mission field or behind a banker's desk or, like me, at a typewriter writing a novel. You do it because you can't get that picture out of your head. You've tried to, but it won't disappear. It's like a huge, snow-capped mountain the shape of an arrow head. It must be climbed.
But that doesn't make it easy. Every time your dream becomes a little real, another part of you dies. For every two successes, there is a failure. Your dream wants you to see the world as you never have before. You gaze over the other, smaller mountains. You see the valleys. You'll never see the world again after you make that summit. Your dream wants to give you life like you've never had before.
Your dream wants to kill you. You fall 3,000 feet to your death. One-hundred thousand pounds of snow and ice collapses on you. You get stuck in the open in much too cold weather, and they find you years later, still standing but frozen stiff.
Sometimes I wish I was still in Santa Barbara, drinking coffee at my desk job, filling out forms all day. It would be easier. Less stressful. Who needs to write a book that no one may buy? Coffee is delicious. Desks are convenient.
It's too late, though. I'm already attached to the mountain. The cold air stings my lungs and I'm faint from the altitude. Live or die, I have to attempt the summit.
Joe dreams of writing novels and teaching other people how to
read and write them, too. Check out his blog TheWritePractice.com
Photo credit: Maria Ly
Comments (14)
EXACTLY what i needed to hear…..

Hi Joe,

At Lizzy's college commencement, the speaker, Mike Tomlin, said that people will try to take your dreams from you, but don't let them. He also said he tells his team (Steelers) that the game is not won in the first five minutes, so breath deeply and enjoy the challenge. You'll do fine.

Hugs,

Mama B

Melinda,
Thanks for the recommendation. As a Southern Californian myself I probably have a few things in common with her.

Mrs. Bureman,
Ha, thanks for the encouragement. I believe you. I already have taken your advice to breathe deeply many times. The air is very thin up here 😉

Joe

I love this, Joe!

This line is so true: "You dream because you have to."

People tend to idealize dreaming, when in reality, I believe it is just doing that which you can't not do.

Joe – We serve a God who makes the mountains in our lives, which are truly killers, be thrown into the sea.

The first "real" mountain in my life was coming down to Santa Barbara from Portland with a mom eager to pin her divorce to my back. Through being hard pressed on every side, God has taken that mountain and thrown it into the sea and given an inheritance beyond my wildest dreams.

Glad you are on the path, brother. If God has given you the vision, he will carry you until it becomes a reality.

Love you

B

As someone who is currently trying to figure out my passion/dreams…this was such a timely post for me. It was encouraging and challenging. Thanks!

True that, Brett. He's a valley maker for sure. That particular mountain did have some painful moments, didn't it. Part of you started to die on that trip down to SB. I'm glad you did.

Love it Melinda. Yeah, I think humans have a psychological need for dreams. Dreams are basically hope, right? And hope is essential to life.

Great quote – I'm going to use it in my post today. Thanks, Melinda.

Right. Disney gets it. So why doesn't the church?

Joe, you might be interested in the thoughts and inspirations of Jen Miskov. She's a dreamer about your age who wrote a small book entitled "Silver to Gold."

A blurb on it reads:
It's a tale of struggle, friendship, love, loss… Above all, its a tale of the adventure of pursuing a deep-rooted dream, the type of dream that you can feel flowing through your veins. You cannot shake it. You are being beckoned towards your full potential. Nothing less will satisfy.

Her website is:
http://www.silvertogold.com/

Heidi baker endorses this book. Jen is the real deal. Southern California bodyboarder before God took her further. She's headed to Redding now.

Joe, I recently watched an old movie called:

"Seven Alone- a true story of courage on the Oregon trail."

It opened with this quote (or something close to it):

"A heart without a dream could be as lonely as a house without a window."

While the movie began, the title song playing was 'Only a Dream away.'

The film was grainy and the storyline not so 'sharp', but because it was about orphans, I watched it, and that opening quote alone made it worth my while. Thought you might appreciate the quote as well.

Interesting your comment about a psychological need for dreams, as tonight's free open space movie for the Traverse City film festival was Tangled. Even a 'cartoon character' gets the power of dreams. And yeah, I think the importance of 'faith, hope and love' reminds us of the integral nature of hope. My friend Tim Hansel use to say that hope was squeezed between faith and love because it was what kept them together.