Your family should move to Antigua, Guatemala
Karen and I just got back from doing a debrief in Guatemala. On our way back, we stopped off in Antigua, the old colonial capital of the country. As we wandered the cobblestone streets at night, I thought about what a great experience it would be for a family or a young person to live there f…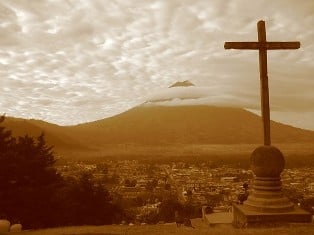 Karen and I just got back from doing
a debrief in Guatemala. On our way back,
we stopped off in Antigua, the old colonial capital of the country.
As we wandered the cobblestone streets at
night, I thought about what a great experience it would be for a family or a
young person to live there for three months.
We ate in a restaurant that used to be a monastery. As we walked in, we passed along a candlelit corridor
leading to a tree-lined courtyard surrounded by thick stone walls.
What a great place to spend our
last night. And when awoke, we passed
the great town square and walked to the Dona Luisa Café, where we ate a great
bowl of tropical fruits on the plant-lined second story balcony. The sun shone in through the leaves and the world seemed perfectly
at peace.
I'd forgotten how magical Antigua
can be. It is has such a great
combination of features. In addition to
its rich history, there is its majestic setting at the foot of a volcano. Or there's the colorful Indian
culture or the perfect weather or the inexpensive cost of living. It'd be a great place to retire or have a
second home.
All that said, here's the reason I advocate
(and Karen enthusiastically backs me) moving to Antigua for three months.
American youth grow up in a toxic soup of media-rich, materialistic,
narcissistic, cynical influences.
Jesus-following families dance closer to the edge of disaster than they know, caught up in a soccer-mom culture that has a much higher spiritual
failure rate than most parents realize.
From my vantage point leading a discipling ministry, I see the impact it
has on young people. They are burning
out and bailing out in droves.
To counter this and be strategic
in your parenting, you need to take drastic action. A great place to start is for young families
to escape America for a summer by learning Spanish at one of the many schools
in Antigua. You can live in a local home
and work with a tutor for four hours a day or as long as you can stand it.
In your off-time, go
exploring or sign up to work with a local ministry. And when you go touring, Lake Atitlan, Tikal, and a hike up the Pacaya Volcano are three
must-see stops.
Comments (15)
I'll keep this in mind for some day when I have a family of my own. hah!

I'll pass, Granada Nicaragua is my choice.

LOVE IT !!!

LOVE IT !!!

LOVE IT !!!

I would LOVE to call it home someday.

jeannie and i are spending the week there next week!

Great challenge here, Seth. I appreciate your views on how we in America need to be intentional about "de-toxing" from the trappings of materialism and the sometimes imperceptible idols in our lives. How regularly ought we to take these radical measures?

Hang out w/ the poor wherever you can find them. as Jesus said, "you'll always have them with you." maybe that was more of a command than anything.

Actually, the volcano you see in the background is Volcán de Agua (Water Volcano) and not Pacaya as you stated; just a tiny correction that is all.

I Love Nicaragua!!!!
Nicaragua would be my choice but where ever God has in his plans. My family has been been going to Nicaragua for the past 7 years on mission trips.
I have to wait on God to convince my husband!! ha/ha (It might not take much)
What adjustment that would be for a family of six.!!!!
How could it not change your life!!

That's good, Tracie. Nicaragua is awesome. Do it!

It made me very happy to see that you and Mom got to spend some good quality resting time with each other before going home. Can't wait to party with you in a couple months.

I completely agree. My wife and I spent 10 days in Guatemala in March 2007, including 6 days in Antigua. I'm ready to move there when I retire. It's the most beautiful place I have ever been. If you go back, check out our favorite restaurant – El Mediterraneo. It's about a block off the square.

Hi there,
just came across this post as I'm researching a summer in Antigua for my family!
My husband and I travelled around Guate for 3 weeks about 9 years ago.
My 2 older children (5 & 7) are in a dual-immersion spanish program at their elementary school here in california. I want to expose them to some culture along with the language.
I have chosen Antigua for a couple reasons. One, it is still relatively inexpensive. Two, my husband will likely only be able to join us for a short portion of the time due to the fact that it will be his busy season for work back home. So I needed a place that would be safe for me to travel with my 3 children (my youngest is 2). Antigua seems to fit the bill.

We are a Jesus-following family, and I whole-heartedly agree about the trap of our soccer-mom culture. It is an everyday battle. I don't know if the answer is to escape America to learn spanish abroad, but I definitely want my children to see how the rest of the world lives and hopefully build compassion in them. My older 2 have been to Africa with us, and have fed the poorest of the poor at the dumps, and the streets.

We are American, but my hope is that we can use that (blessing?) to care for the least of these, and not be conformed by our excessive culture.

Thanks for posting this! It was fun to find!

I agree, Antigua is a terribly beautiful and interesting place to visit and live. However, it is not devoid of narcissism, as certainly no place can be. Stay a bit longer than 3 months and you'll begin to see the overwhelming presence of narcissism in the locals there who choose to make it they're home. It's practically a breeding ground among the small group of permanent fixtures. As long as you have superficial relationships with this group of ex-pats you'll emerge unscathed. Just a warning. Wish I had gotten one. It is though, as you pointed out, a wonderful area to explore and take in. I only just recommend it as a tourist 😉

Louise, Antigua is large enough to avoid the handful of the people you mention. It sounds like you got burned. To recommend people not live there full time is giving bad advice. Antigua is a great place to enjoy a happy life.

Granada is too hot and humid. Antigua has perfect weather. I choose Antigua over Granada just on that point.
Subscribe to Radical Living:
Receive updates on the latest posts as Seth Barnes covers many topics like spiritual formation, what if means to be a christian, how to pray, and more. Radical Living blog is all about a call to excellence in ministry, church, and leadership -as the hands and feet of Jesus.