A Refugee Fleeing The Greatest Crisis of Our Times
James could hear gunfire throughout the night. Living on adrenaline had become his new normal. Would they come for him in the night or the day? Would they kill him and his family? How much can be taken from you until you give up your soul? For James, living in South Sudan had become…
James could hear gunfire throughout the night. Living on adrenaline had become his new normal. Would they come for him in the night or the day? Would they kill him and his family? How much can be taken from you until you give up your soul?
For James, living in South Sudan had become too risky. He knew that he and his family would have to make a break for the border.
Pastor James Salah has been fighting his whole life to help people in need. He'd grown up an orphan and wasn't able to finish school. To make money, he carried luggage on his back for travelers. Eventually he started his own business. His small business allowed him to begin his family and also open a church.
James saw how many of his fellow South Sudanese citizens were dying of preventable diseases. He saw that a small clinic could make a huge difference in providing health care for them. So James and his family started one.
Part of a much bigger crisis
The civil war broke out in South Sudan in 2013. By 2016 the threats of assassination by Government soldiers began. Soldiers (government and rebel) were raiding homes, destroying medical clinics, and killing innocent. James and his family were left with no option but to flee Yei for Northern Uganda.
And so, they left, becoming a part of a great river of people, more than a million in all, pouring out of South Sudan.
Little did they realize, they were part of what the United Nations calls "the worst humanitarian crisis since World War 2." If something is not done, "20 million people in four countries will suffer famine in the coming months, and that hundreds of thousands of children will starve to death."
All the dreams he'd accomplished were gone in the blink of an eye. Everything was left behind. The government seized the equipment and medications in his clinic.
James and his family made the long trek across the border into Uganda. The picture above is shows where they slept. He describes how harsh those first days were: "We were in the open bush without tents or even simple plastic sheets for putting simple shelters. So we were sleeping under the trees."
It was very cold at night. From the very first night, my wife and the young children got sick and two small children from our neighbor died a day later. Three of our children developed bronchitis which gets worse in cold weather."
An unbearable tragedy
Their two year-old girl, Grace, was the sickest of the three. He knew what he needed to save her. He ran from clinic to clinic, searching for the right drugs. No one had what Grace needed. Tragically, she died within 14 hours.
The pain James and his wife have felt in grieving Grace's death has been more than they could bear. Leaving their home and their community had been hard, but nothing could compare with what it felt like to lose Grace.
Looking at his neighbors, James saw many in a similar condition. He vowed that he would use Grace's life and memory as motivation to save the lives of others.
And so he is. James decided open a medical clinic for refugees so other kids might stand a fighting chance at surviving diseases. He has been able to provide life-saving medicines to many already.*
Life for James and his family on the Ugandan border is tough. Like the millions of others, they must struggle for survival. What makes it worse is that it seems like the worst lies ahead. Some 3,000 a day pour across the border into a land ill-equipped to receive them.
What will the church do in response? Will we reach out and help, or will we look the other way? The time to show our care is now.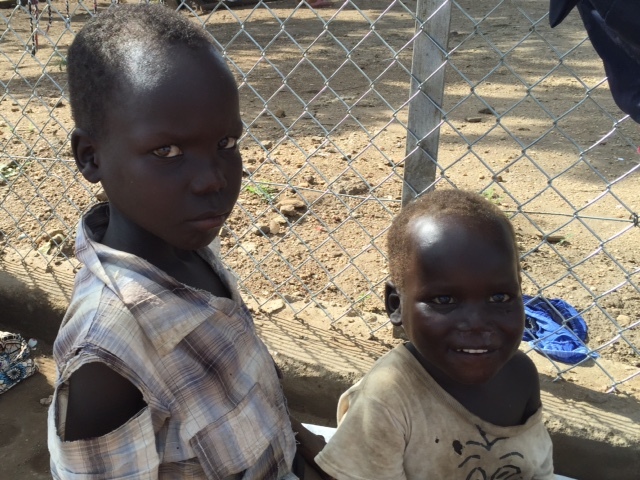 * James needs our help to make this clinic a success. To help him and those like him, we've established this campaign.