All we like skunks have gone astray
I let Whimsy out the front door at 6 a.m. in the morning darkness. Our morning routine is usually uneventful. By the time I go into the kitchen to make the coffee and clean a few dishes, he's ready to come in. But not this morning, the noise of his barking had the urgency of confrontatio…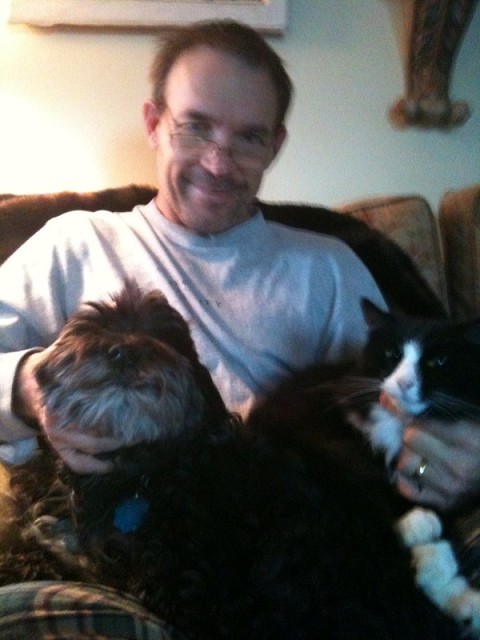 I let Whimsy out the front door at 6 a.m. in the morning darkness. Our morning routine is usually uneventful. By the time I go into the kitchen to make the coffee and clean a few dishes, he's ready to come in.
But not this morning, the noise of his barking had the urgency of confrontation in it. This by itself is no extraordinary thing as Whimsy, a 15 pound fluff ball with the heart of bullmastiff, is perpetually confronting things. When cars wind down our driveway to the house, he runs out and stands squarely in the middle of the road facing them down. UPS trucks don't have a chance against him.
I always like to let Karen sleep in and with all the wild yapping, she was sure to awaken. But poking my head outside, I could see Whimsy and what appeared to be a cat engaged in an altercation.
Then the smell hit my nose. It was so intense, it felt like being inside a garlic. "Whimsy, come in here, that's a skunk!" I yelled. Whimsy obeyed, raced up the stairs, ran into the house, and immediately filled the air with skunk stench. "Whimsy, get out of here!" I yelled, booting him outside. What to do now?
Twenty seconds passed and again more ferocious barking sounded. Whimsy had gone back for round two. "Whimsy! You stupid dog! Get away from the skunk!" I yelled and then shut the door to keep from blacking out from the stink. Whimsy came up the stairs and was pawing at his face. I guess getting hit with a full-frontal blast of skunk spray is tough, even for a dog that likes to find things that stink and roll in them.
I looked outside and the skunk was ambling around the front yard like he owned the place. Another minute passed and Whimsy went flying maniacally after it again, "Rarf, rarf, rarf! Yipe, yipe!" Rang out in the darkness.
By now, Karen had come staggering down, wiping the sleep from her eyes, "What's the commotion?"
Obviously our dog doesn't know the word "quit." I went outside and built a barricade on the porch. Eventually the cantankerous skunk ambled off into the woods. Whimsy, the spoiled inside dog, became an outside dog for the day. Karen researched and found that, contrary to popular opinion, tomato juice does not eliminate stunk stench. Only a peroxide solution does that.
When I returned home in the evening, Whimsy had been thoroughly bathed and still stank. He's been living in the laundry room ever since and whines and scratches the door incessantly to signal his displeasure. But there he will remain until we can give him another round of bathing in the morning. Karen already went to bed with a headache and I'm done with the animal.
I was reading today from Proverbs, "as a dog returns to its vomit" it said. I guess some of us have a fascination with things that stink. And others of us just have gotten in the habit of fighting all the time, even though the outcome only pollutes the environment for others. I know a lot of people like that. And they perpetually run back to God and apologize too. It can be annoying to the rest of us, but not, apparently to the Almighty.
I'm sure the rest of you can find other spiritual truths embedded in this day-in-the-life story. As for me, I'm calling it a day.
Comments (7)
we always used tomato juice on the farm growing up. worked for us

We sell a special skunk off shampoo at the vet hospital I work at… granted it smells a little bit itself, but it does get rid of the skunk smell! 🙂

Hummmmm…"a habit of fighting, returning to vomit, things that stink"… I know of only one thing that will take that away, it's red and not tomato juice! I have a young person in mind that I'm praying he will give up the fight and be cleansed in the blood.

At first glance, I read the title as "… have gone a-spray"! Sounds like quite the encounter!

Expected it to say a-spray, as well. You beat me to the punch, Katherine!

"I guess some of us have a fascination with things that stink…"

Great lesson here, Seth. I can see this is especially true when there is something controversial in the news (i.e. Tiger Woods, Jon and Kate, etc.). If there's trouble a-brewing many of us are first to jump on the gossip/obsession bandwagon.

Sad, really.

oh my … help us learn how to quit returning to the things that stink… wow, that's a good lesson…

now you know WHY Whimsy got sprayed yesterday – sorry you & the family have to endure these things for good life lessons 🙂

Hi Seth and Karen,

I will never forget the day you called upon me to send that possum in your garage to eternity.

You may have a full time need for extermination. 🙂
Subscribe to Radical Living:
Receive updates on the latest posts as Seth Barnes covers many topics like spiritual formation, what if means to be a christian, how to pray, and more. Radical Living blog is all about a call to excellence in ministry, church, and leadership -as the hands and feet of Jesus.