Can Women Be Apostles?
What is an apostle and can a woman be one? This is the kind of question that a lot of people shy away from – it's complicated. The Bible talks about five kinds of spiritual gifts in Ephesians 4 and one of them is the gift of an apostle. The word apostle means "sent one" as in o…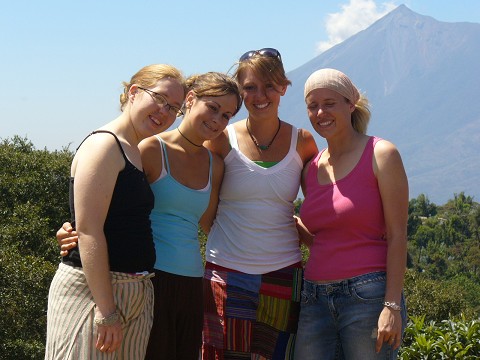 What is an apostle and can a woman be one? This is the kind of question that a lot of people shy away from – it's complicated.
The Bible talks about five kinds of spiritual gifts in Ephesians 4 and one of them is the gift of an apostle. The word
apostle
means "sent one"
as in one who is called by God to a task and sent out to do it.
Some Christians say, "The gift of apostleship ceased when the original apostles died." I don't see evidence of this in the Bible, so my interpretation of Scripture is that apostles are still around.
The 12 disciples were apostles, but then so was Paul, so the gift was not restricted to the original 12. Shouldn't it be incumbent on those who believe that the Bible is inspired by God to show that God would contradict what the Bible states (in
Ephesians 4
)? Just because we have little experience with something does not invalidate it.
So what is an apostle, and given the fact that the Bible does not prohibit women from having the gift, what can we conclude about the subject?
The Bible gives us a lot of examples. Paul describes what was required of him as an apostle in
2 Corinthians 12
in contrast to those who "masquerade as false apostles."
For all the fruit that Paul produced, God's primary requirement of him seems to have been a lot of suffering. He gives a harrowing recitation of near-death experiences that he experienced.
Apostles in the Bible are usually establishing new ministry involving groups of Christians, also known as churches. They are pioneers. In our modern world, we might view them as spiritual entrepreneurs.
We need pioneers, but it's hard to make room for them. Pioneers go to new places and start new things. They don't look at the world as it is and say, "why?" they look at the world as it could be and say, "why not?" They change things and most people don't like change – they resist it.
So if the gift of apostleship still exists, is it restricted to men? In the Bible, that is what we mostly see. And Paul does stir up a lot of controversy with what he says about women in leadership. (see
1 Timothy 2:11-12
especially) I've addressed that subject in
this blog post
. The fact is that there are far more women missionaries than there are men. Women are almost always at the forefront of the mission movement.
Wherever you stand on that issue, the bottom line is that we lead others in many different ways. You don't have to lead in the traditional top-down sense. Women the world over are better servant leaders than many men. Can they start things? They frequently did so in the Bible. A
few examples
: Look at Priscilla, Phoebe, Euodia, Syntyche, and Junia. They all helped Paul start churches.
Here's an example from my own experience. Ten years ago, when I was starting the World Race, I came across a young pioneer.
Laura Jacob's
application was one of the first I looked at. She described herself as "bold and courageous" and said that her strongest gift was as an apostle.
Initially I was struck that this 22 year-old seemed to know what she wanted. And time has shown that over and over again. We were looking for a special kind of person and Laura seemed to fit the bill.
What a pioneering year that was!
On Laura's very first stop in Mexico,
she met Corey Jacobs
. They later married and moved to the Dominican Republic to help pioneer the work there. After coming home, she summed up what she learned by saying, "Life is missions… and missions simply is life. All is sacred."
From that initial squad of 24, the World Race has grown to send out a thousand a a year. Laura came on staff and continued to help us pioneer it, interviewing and training candidates and filling a variety of roles. Like Paul, she experienced hardship along the way and bore it with cheerfulness.
And I knew whenever it was time to start a new ministry that Laura was someone I could call on to help get it going. Later, even after having a child and being pregnant with another, she helped care for over 60 long-term missionaries.
Last week, Laura stepped down from the ministry to focus her life on discipling her own boys. And we may ask, did she leave behind the fruit of an apostolic gift?
The fruit of Laura's work is evident – thousands of young people are being discipled and are making disciples. She has put in place systems and processes that continue to breathe life even after she is not longer overseeing them. People continue to plant the kingdom in her wake.
Around the world, there are thousands like Laura. Women planting the kingdom in hard places. Women like
Jackie Pullinger
or
Heidi Baker
who have healed the sick, clothed the naked and raised up church planters.
Choose your own words – the Bible uses the word apostle. Maybe it seems strange or foreign. Perhaps the word pioneer works better for you.
Can a woman pioneer kingdom work in dark and hopeless places? The Bible doesn't prohibit it. It seems to encourage Christians of all stripes to do so. And, as in Laura Jacobs' ministry, the fruit of their work still shines, long after they've left the scene.
Comments (12)
I love this. Thank you for writing!

This is good, thanks Seth! Laura did do well. I worked with her in 2013 and 2014 setting up the Guatemala base and yes, her apostolic work still has fruit today! Go Laura!

Yes, she did, Noe. She worked in obscurity, but needs to be congratulated for the hard groundbreaking work she put in. Thanks for encouraging her.

Yes, this is good! And, know question the office can land a women with the "yes" in her heart… I would suggest just allowing it to happen, as none of the Apostles mentioned above had it very easy, especially in death!

I'm glad for your writing this. I have often wonder about this very subject, particularly in my role in building up the church, and with the face of missions being predominately women. I never want to limit the way the Lord would want to use the gifts that he has given me and I am willing to use them in whatever capacity he wants me, whether that is only in the role of being a mother or in some position of authority in the church or otherwise. I have a huge heart for empowering the men around me to walk in their Christ given identities and I desire for them to be as willing to go as I've seen some women. That being said, I sometimes wonder why the Lord would give me the gifts and desires he has given me for his kingdom if they are only reserved for men to do. Honestly, I don't really feel like I have an answer either way. I just continue trying to follow the Lord where I feel he is leading me and trust him to take care of the doctrine part of that. 🙂

Yes, what kind of father would give gifts to his children and not expect them to unwrap and use them? That wouldn't make sense.

As a woman that carries authority when necessary, I can tell you that I'm happy to forgo a title and just get a job done. The title and man's opinion of it will not stop me from fulfilling all that God has planned for me and other women. So thank you for clarifying the role over the title. Laura is amazing. Blessings on her next chapter of life as she raises her own little disciples of Christ.

Rozy – the Lord has so obviously gifted you as a discipler and a ground-breaker and its so good for others to see that titles don't matter. You carry far more spiritual authority than most male Christian leaders I know. It's always fun watching you set people free!

Wow. What a blessing and an honor to be blogged about!!!! When I applied for that first race I had no idea what this journey would be… Much less what walking in my true identity would really mean!!! Thanks Seth for the journey… You are the one who often laid in the mud for us to stand on your back and get one step higher. Thank you for such a great journey. And like my last world race blog… The race is never over!

it was a good start. The best is yet to come.

Thanks for being a great voice on this Seth! Both for apostles and women! I think many that have the gift of Apostleship are often left wondering how they fit in the kingdom when seen from our western church perspective. Pioneering is hard, lonely, and enduring work! Your encouragement is a fresh breath!

Thanks, Jason. I know you've done your share of pioneering!
Subscribe to Radical Living:
Receive updates on the latest posts as Seth Barnes covers many topics like spiritual formation, what if means to be a christian, how to pray, and more. Radical Living blog is all about a call to excellence in ministry, church, and leadership -as the hands and feet of Jesus.