Following up on your short-term trip
Stephanie Fisk ministered in the garbage dumps of Nicaragua last year. It was one of the highlights of her year. The stories she told of her experience impacted many (read them here and here). She connected with those to whom she ministered at a deep level. And after leaving, she continued …
Stephanie Fisk ministered in the garbage dumps of Nicaragua last
year. It was one of the highlights of her year. The stories she told
of her experience impacted many (read them
here
and
here
).
She connected with those to whom she ministered at a deep level. And
after leaving, she continued to think about them. Their lives were so
different than hers – they lived so close to the margins.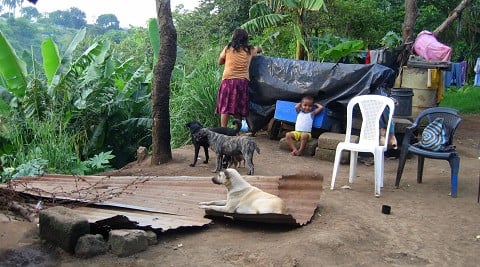 How many of us have been a short-term mission trip and had a similar
experience? During our brief time, we connect and bond, but then we
leave and feel the angst of returning to our lives of abundance,
leaving behind people whose lives continue on in poverty. We need to
lift them up in prayer and find ways to continue to connect with them.
They continue to struggle with life and death issues long after we
leave and many of them continue to carry us and our experiences with
them in their hearts. Stephanie returned to Nicaragua after a year and
a half. Here's her story:
The

Mohica family

has

been alive in my spirit ever since I meet them 1 ½ years ago on the

skirt of the Diriamba dump.

Through the smoke of the burning trash,

this family stood as a beacon of hope in the midst of despair.I prayed

that the Lord would reunite us one day soon, and that day was last

Saturday around 4 o'clock in the afternoon.

I walked the maze of

streets like it was only yesterday.The route from the town square to

their rusty, corrugated metal home is forever etched in my mind.The

path will not be erased: paved roads, down and up a steep ravine,

through a neighborhood of cobble streets

, take a right and then a left,

follow the dirt road as it curves around the dump.The smell of burning

trash is no longer a memory, but a stench that fills my nostrils and

points me in the right direction.

As I come to the edge of their property, a mangy dog comes to
great me.I step through their barbed wire fence and soon see faces
curiously watching this gringa draws near.I take a few steps closer as
I yell, "Hola. Me recuedas?" (Do you remember me?)A few faces remain
blank while others begin to register the reunion that is about to take
place.

A few more kids, teenagers and adults emerge from their
makeshift houses.But I do not see him.I do not see the pillar of this
family – Adolfo Mohica – the grandfather and prayer warrior.

What
instantly pops into my head is that he might have died.I know this is
harsh, but I also know it is reality here in Nicaragua.I reluctantly
ask the 30ish year old son who is bringing out two broken, plastic
chairs from inside their home, "Aldolfo esta aqui?"I sit and my body
tenses as the son pauses and looks around the yard.I hold my breath,
honestly expecting the worst.The son points towards the dump and my
fears vanish as I see Aldolfo emerge from the trash.

A huge smile appears on his face as he spots me.He walks over and
gives me a hug.

Karle, Mario and Carlos – three grandchildren – timidly approach my
chair.They want to come close, yet time has put a tinge of hesitancy
in their step.I hold out a family picture of them with Tim and myself
that we took last year.(picture above) "This is for you," I tell them
as I hold it out for them to grab.Their curiosity gets the best of
them and they eagerly gaze at the picture.They look at the picture and
then at me, back at the picture – pointing and laughing – back at
me.Hugs follow for all as the memory of last year replaces fear.

They proudly introduce me to their prized, 6 months old pig.
Adolfo reappears and pulls up another chair.He has taken a shower for
his long lost guest.I ask him how his family has been this last
year.He beckons for Carlitos, his 5 year old grandson, to come to
where we are sitting.He lifts up Carlos's red shirt that reveals two
large, deep scars across his abdomen. Carlos gazes as me with his large
brown eyes.They captivate me.There is something very special about
this little boy. I can sense it before Adolfo even begins to tell it.

Last year Aldolfo didn't let go.He fought for the
precious life of his grandson.Last December, Carlos fell off a
motorcycle and about died.His abdomen area got pretty beat up and he
fell into a coma.He remained in the hospital for days…really only
awaiting death.

The prayer warrior called in the troops and the Mohica
family got on their knees before the Lord for days on end.They were
not giving up because they knew they served a God of life and
healing.They would not let go.

One afternoon, Carlitos's nurse entered his hospital room and was
immediately taken aback.There above his bed were two angels and a man
who she believes was Jesus.She fled the room out of fear, but when she
returned, Carlitos was awake.He continued to improve and was released
from the hospital.

Adolfo knew His God was faithful and would return his
grandson.And today, Carlitos is a living testimony of the Lord's
healing power.I rejoiced with them and we all gathered together to
pray right then and there.Because of God's faithfulness, today many of
the teenage boys in the family are also on fire for the Lord.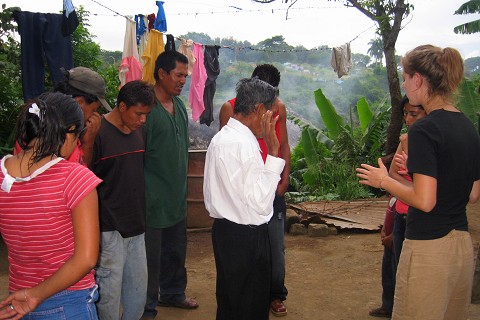 I am
incredibly humbled to know that this family has been praying for me and
for this day (a reunion) ever since I left 1 ½ years ago.

Comments (2)
your sharing touched me deeply, made me look again at my life of abundance, & encouraged me to be more than willing to give it up in an instant if He'd just ask me.

(The sacrifice for my wife & I isn't to go somewhere & live simply. The greater sacrifice is to stay here in this vulgar abundance, live, & live out the call of Christ on our lives.)
Subscribe to Radical Living:
Receive updates on the latest posts as Seth Barnes covers many topics like spiritual formation, what if means to be a christian, how to pray, and more. Radical Living blog is all about a call to excellence in ministry, church, and leadership -as the hands and feet of Jesus.