The magic of discovery
A few years ago, as we were flying the long hours from Paris to Kenya, we noticed that the stewardesses efforts to make the trip more bearable. As we flew from the Alps to the Mediterranean and then the Sahara Desert parallel to the Red Sea, the French flight attendant kept bringing …
A few years ago, as we were flying the long hours from Paris to Kenya, we noticed that the stewardesses efforts to make the trip more bearable.
As we flew from the Alps to the Mediterranean and then the
Sahara Desert parallel to the Red Sea, the French flight attendant kept
bringing us stuff. Every time she would put something new down in front
of us, she would proclaim "Voila!" like she had just performed some
magic trick.
If we asked for some milk for our coffee or some ice, the stewardess
would give us some and announce, "Voila!" It made us feel both special
and a little ridiculous at the same time, like we should clap for her.
What is it about a voila! moment that feels special? It's a kind of conspiratorial discovery process. It's a time when what was previously foreign is revealed.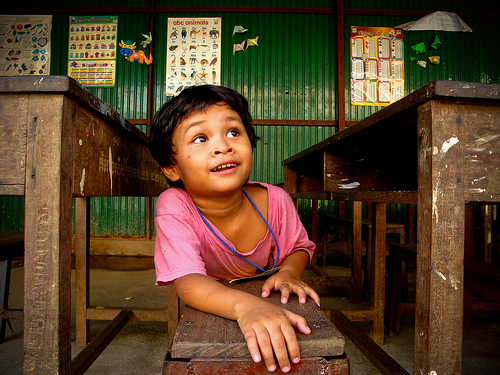 One of the great privileges of parenthood is to experience
voila!
moments with your children. Go to the zoo and show your child a panda and you feel like saying, "Voila!"
Science teachers probably feel that way. I can still remember the first time I looked under a microscope and saw all that was wriggling around on the slide. My fifth grade teacher, Mrs. Powell, probably said something like, "Voila!" to me.
I think God is that way with us. He has so much to show us in life if we'll ask him to. "Watch, if you'll trust me, I'll heal that sick girl." He says. Or, "Look at this, I can turn this crusty old man into a new creature who enjoys people."
We all get into boring ruts in our lives from time to time. Perhaps it's been years since we felt the thrill of discovery. As we approach a New Year, we need to discover the God who delights in voila! moments. He's got so much to show us.
Comments (8)
I need a little "voila" in my life right now.

thanks

Thanks again Seth for your wonderfully refreshing comments and observations. I do get tickled watching God love on His people. I truly love those voila moments that just take your breathe away and remind us of how awesome our heavenly Daddy is. Seth, thanks so much for all you have shared this year. You have certainly challenged and encouraged us through your writings. May God continue to grace you to continue to be a blessing to the Body of Christ this coming year.

I feel blessed that I've been in a period of God saying "voila" quite a bit recently. And I know He delights how excited I get over every single one of them, no matter how big or small.

I can't wait to see what He shows me next!

**mArC** The Schifano Tribe

Loved when Jesus said, "Behold, I make all things new." A whole life of voila. That kicks butt.

Its been a dry period in my life this year, but like you said God wants you to wait so that he can wow us with his voila moments. I have tried and been patient, and i'm learning how to be still inside. Like an eager kid i'm also excited 😉

I love that! Voila! and perfect also because I was able to spend a couple of weeks in France this summer. Making all things new, the past two years have been very, very difficult, but God never dropped me, and I have had a few wonderful voila experiences just recently, and believe and pray that a season of voila may now be ahead…

Scientists tell us the universe is still expanding. God can't help himself. He is creative at the core of His transcending being. And vestiges of that divine anomaly are in each of us. Thanks Seth…

"Oh sovereign God, would you please bring "VOILA" to all who are thirsty, to all who are dry. Please bring that thrill of doing kingdom stuff…"

"Jesus, I ask that you would come and do great things in the lives of this blog community. Would you refresh us, give us hope, and excite us again…"

"Holy Spirit come and bring vision, restoration, and a close sense of your intimacy to all who are here…"
Subscribe to Radical Living:
Receive updates on the latest posts as Seth Barnes covers many topics like spiritual formation, what if means to be a christian, how to pray, and more. Radical Living blog is all about a call to excellence in ministry, church, and leadership -as the hands and feet of Jesus.