Toya Mac: Mobilizing African Americans to reach Africa
Spring has passed in Georgia, and we at AIM are entering the busiest season of the year. I catch myself sometimes worrying about the future and where we're headed as an organization. I spend many mornings on my front porch, asking God for direction about where to go from here. As I survey the sce…
Spring has passed in Georgia, and we at AIM are entering the busiest season of the year. I catch myself sometimes worrying about the future and where we're headed as an organization. I spend many mornings on my front porch, asking God for direction about where to go from here. As I survey the scene it is easy to for my mind to slip into Isaiah 55:
'My thoughts are nothing like your thoughts,' says the Lord. 'And my ways are far beyond anything you can imagine… It is the same with my word. I send it out, and it always produces fruit. It will accomplish all I want it to, and it will prosper everywhere I send it. You will live in joy and peace. The mountains and the hills will burst into song, and the trees of the field will clap their hands!' (8, 11-12)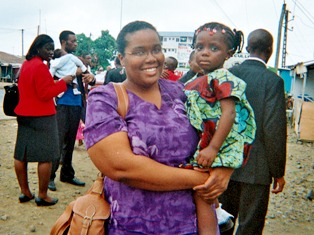 God leads us through various seasons in our lives: spring to summer, fall to winter, life to death, and death to life.Through all of it, I'm challenged to learn to depend more deeply on God.
A new member of the AIM family (participating in our
ComLife program
) has found herself in a season of transformation.
Toya Mac
picked up and left the comfort of her independent lifestyle (one she lived for seventeen years) to live in a house of eleven diverse women. In this place of surrender, God has begun awakening her heart to her calling. I'll share her words with you:
My main goal with AIM right now is to help mobilize African American individuals on the mission field. While in Africa earlier this year, my heart was broken. The African people wonder where their African-American brothers and sisters are. My heart's cry is to connect our cultures and start a small fire within African-American churches as they relate to missions.

My desire is to build relationships across racial and cultural lines. I want to walk hand-in-hand with many different backgrounds on the mission field – to serve in the U.S. and abroad.
This project, uniting the black churches of America with a missional purpose, will begin this fall in New Orleans, LA. Toya has already scheduled two
mission trips
and is now trekking across the country, connecting churches with these opportunities to serve. In addition to going to New Orleans, Toya has planned a vision trip for black churches to see
Swaziland
. She hopes that these interactions will stir a calling in congregations to begin understanding the importance of being involved in world missions.
Some of Toya's immediate needs, in her own words are:
Prayer: "Please begin to cover our entire Community Life team in prayer. Specifically, for the hearts of those we touch to be soft. Also pray that team members would be receptive to God's voice and that we will learn all He has for us to learn during this time of commitment."

Support: "Please ask the Lord for His wisdom in supporting me financially. I must have $3,000 in my account by the end of the month or I will no longer be able to be a part of this mission."

Networking: "If you have a church, organization or other individuals who you think may be interested, please assist me in making these valuable connections."
I ask that you consider joining with Toya in her mission to advance the kingdom and bring churches along with her to the nations.
Comments (2)
Toya is awesome and yes, God is going to use her for his Kingdom. Thanks for writing about her!
Subscribe to Radical Living:
Receive updates on the latest posts as Seth Barnes covers many topics like spiritual formation, what if means to be a christian, how to pray, and more. Radical Living blog is all about a call to excellence in ministry, church, and leadership -as the hands and feet of Jesus.