We need more poetry in our lives
For a while now I've been realizing that there's too little poetry in my life. Too many details, not enough poetry. Poetry is what strums the chords in my soul. It's the summer storm moving with the suddenness of an exclamation point across the lake and the double ra…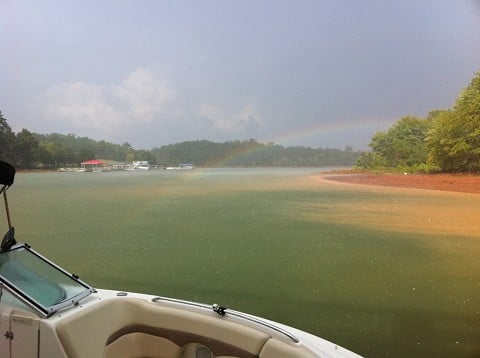 For a while now I've been realizing that there's too little poetry in my life. Too many details, not enough poetry.
Poetry is what strums the chords in my soul.
It's the summer storm moving with the suddenness of an exclamation point across the lake
and the double rainbow that ended near our boat at the Hylton's dock.
It's the grace in a friend's sly smile when he knows I'm not at my best.
It's the life-giving actions of busy people who put their own lives on hold to bring heaven closer when you're in pain.
Tonight the missionaries we're going to visit in Cambodia answered Karen's question "what do you miss that I can bring?"
-Hot lemon Chitos

-Whopper malt balls

-Hot chocolate packs

-Sour patch kids candy
I think it will taste like poetry to them.
This evening I was listening to
Josh Garrels
, realizing again how I need poetry in my life, and this lyric from his song
Decision
struck me:
Everyone says that it's alright
Living in darkness every night
But I think it's time to find out

And make that change
As poetry goes, the lyrics are OK, but put them to music and sing them from your heart, and it can touch you.
What does poetry do? It moves us to a place where our spirits can breathe. We suffocate down here
in these cubicles,
in this traffic,
in these transaction-oriented relationships,
in front of these TVs.
It all constricts the spirit…
Suicide is a desperate thing, but not for those who already feel dead inside. When Josh Garrels sings of that bleak and lonely place where some people find themselves, I think its an act of a poet. I think it mirrors God's poetic impulse in creation.
I hear his song as a life raft in the fog and I hear God in the back beat joining Garrels in his project of creating the possibility of hope. Maybe just enough hope to make it through to a place where storms end and rainbows unexpectedly show up.
Farther along we'll understand why
Cheer up my brothers, live in the sunshine
We'll understand this, all by and by

Tempted and tried, I wondered why
The good man died, the bad man thrives
And Jesus cries because he loves em' both
We're all cast-aways in need of ropes
Hangin' on by the last threads of our hope
Comments (11)
I will always agree with this sentiment! Been reading Whitman lately and a little of Rimbaud even. Poetry truly makes the heart come alive! Have you seen Dead Poets Society? Always a good one!

Thank you, Seth. I needed that.

Excellent, Seth. Well said. And well-written. This is a poem in itself!

Look forward to hearing some Cambodian "poems" when you return. Godspeed, brother!

Beautifully put…. poetry excites my soul for sure. Thank you for this.

thanks for this post seth. i just found out about a suicide back home that just happened that hits really close to home for me…ill save the details for when i see you in person. it's been an incredibly hard two weeks for me. this post spoke to me. thanks. look forward to seeing you

Go bless those girls in Cambodia! Keep up the good work brother. You are making such an impact in this coach's life! Bless you man.

Abuse kills creativity. It takes a long time to come back. Poetry and dreaming and music help, but are hard to come by for a wounded soul. How can we make more corporate space for this, so life and health seep back in to painful, scarred places? "We need more poetry in our lives…" — such good words!
Subscribe to Radical Living:
Receive updates on the latest posts as Seth Barnes covers many topics like spiritual formation, what if means to be a christian, how to pray, and more. Radical Living blog is all about a call to excellence in ministry, church, and leadership -as the hands and feet of Jesus.