When you're wrestling for your life
Here in Georgia the doctors have told our staff member Lambert Royal that his cancer is terminal. They've said the same thing to Cody Spahr out in Redwood City, CA. These men and their families are in a terrible struggle for life and healing and have requested your prayers this morning. Perhaps y…
Here in Georgia the doctors have told our staff member Lambert Royal that his cancer is terminal. They've said the same thing to
Cody Spahr
out in Redwood City, CA. These men and their families are in a terrible struggle for life and healing and have requested your prayers this morning. Perhaps you know of others like them. I think Sundays like today are good days to think about those in a place of great dependence on God for a miracle.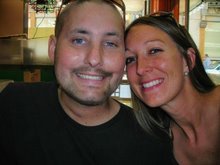 Ultimately, we have to deal with the issue of surrender and abandonment as we wrestle with death. I don't know if there is a greater place of abandonment than to lose your health. It forces you to either depend totally on your creator or shake an angry fist in his face. Cody and his wife Amy have chosen to depend and worship. Amy wrote
this
a few days ago:
While at the hospital today, we met with a fellow oncologist (Cody's doc is out of town). He sent Cody down for a chest x-ray to see why he's having so many problems breathing. About half an hour later, a nurse came to get us and took us to a private room. I had this horrible feeling in the pit of my stomach but wasn't sure why.

Basically the doctor informed us that there is nothing else they can do for Cody. The bone marrow biopsy came back showing that there is in fact disease in his marrow. And there are 2 pretty large tumors on Cody's left lung, which is why he's having shortness of breath and wheezing. They cannot give Cody anymore chemo, because of his marrow. Also a bone marrow transplant is out of the question. The doctor offered to refer to hospice care, but we declined at least until we can get our heads together and PRAY!

As you can see, we need a miracle! We are not declaring defeat, but this is the reality that we are facing. We know God can turn this thing around at any moment, so we are trusting Him and Him alone! He parted the Red Sea, for cryin' out loud 🙂
If you know someone like Cody or Lambert, today is a good day for all of us to join our hearts in prayer believing for a miracle. Feel free to add their names below and let's remember them in their time of need.
Comments (27)
I've just seen the Lord work a miracle in my mom. Even the doctors declared her recovery a miracle (and you know how reluctant doctors are to say that word). She had 3 strokes at once and the doctors didn't expect her to make it but after 6 weeks in the hospital she is home, walking, talking, and moving every limb! Praise God!

The sermon in church today was a continuation of a series on the miracles of Jesus and the point today was to "pray big". The more faith we have, the bigger our prayers should be. I will "pray big" for these two families because we serve Jehovah-Rapha, the Healer, and nothing is impossible for Him!

Lord, we come to you on behalf of Lambert and Cody, their families and their friends. We thank you for their faith in You. We ask for a full and perfect healing in Lambert and Cody's bodies in the name of Jesus. We know You have a plan and a purpose for their life and ask that you give them the healing and strength they need to live it out to its fullest completion. We ask you Lord for nothing short of a miracle. We trust You Father. We love you. Amen.

I met my friend´s cousin in Mexico today who is 18 with stage 4 colon cancer. His name is Hecktor, and he is believing!

God bless you, Seth.. and thank you for standing with us!

Praying for and believing for both these men. If either are interested, Seth, I could pass on to them what the Lord taught me in fighting cancer naturally. Although I was in early stages, I met many others in later stages, those who were told by doctors there was nothing more to be done, that came through. Even so, it is not our effort, but our Jesus, the same yesterday, today and forever, who heals. But we can cooperate with Him and the wisdom and direction He gives us. I'm encouraged by everyone's faith and prayers! How long will the Church let cancer take out God's servants because of our passivity?

Heath Sammons
Kim Anderson
Anthony Negrin

All in need of a mighty miracle. One touch from our Abba Father!

I lost my best friend to Non-Hodgkin's Lymphoma 2.5 yrs. ago-age 27, but God did heal himfor eternity. I am praying for Cody and Lambert. A young mother has terminal breast cancer (Eileen). I do agree with Kathy…Fighting it naturally (eating what God has made-preservative/hormone free-has been found to be very beneficial. Either way, God has a huge plan for you all and He will never leave you nor forsake you. Praying!

Can't quit thinking about them…praying often!!

My aunts, both of whom are recent diagnosed:

Elizabeth (lung mass)
Gloria (two brain tumors, lung mass)

My prayer is that they don't let their lives be wasted by cancer (see John Piper)

My friends:
Mark (inoperable bowel cancer, age 44, 3 young kids)
Bob (inoperable brain tumour, been given weeks at the most)

Jesus, have mercy. Standing with you for your friends too.

Jim Benson (& Kay), Patient
Mayo Clinic Hospital
4500 San Pablo Road
Jacksonville, Florida 32224

My friends:
Trudy Barber
Jane Busenitz

Please pray for healing for Charles in Riverside fighting for his life tonight
Please pray for comfort for the family and friends
Please pray for Willie his only brother

Charles passed away……
Please Pray for the family….

I'm so sorry, Stephanie. Will pray.

For Juan Perez here in San Antonio Texas he is in the hospital in critical condition fighting for his life and there's a lot of things working against him he is in a coma and cannot pray and prayer is well needed.

For my husband whom I've been separated with for almost 5 years, he recently got into a motorcycle accident with no helmet…. he is fighting for his life has skull fractures, swelling, bleeding in the brain, multiple broken bones and collapsed lung, every hour changes its a roller coaster ride with good news then bad news….. Any prayers will be greatly appreciated…. Thank you and God Bless

This is crazy! I have been praying for and reading about Cody and Amy for months now. Believing for his healing in the name of Jesus!