Writing Andrew Shearman's book
Years ago when I heard Andrew Shearman's message about the 42nd generation, I thought to myself, "This needs to be a book." Two problems immediately arose: a) Andrew's passion and inimitable speaking style would be hard to capture in printed form. Plus, he likes to go on what he calls, …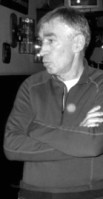 Years ago when I heard Andrew Shearman's message about the 42nd generation, I thought to myself, "This needs to be a book."
Two problems immediately arose:
a) Andrew's passion and inimitable speaking style would be hard to capture in printed form. Plus, he likes to go on what he calls, "rabbit trails." It works great when he's speaking, but it wouldn't work as well in a book.
b) Who would write it in any case?
In 2002 I decided that maybe I would help Andrew write the book. We were on a mission trip together to London. We spent many hours together, him talking and me taking notes.
And at the end, I had written 7,000 words of something that needed to be perhaps 50,000 words. I realized that I was not the man to help Andrew write his book.
Last year my son-in-law, Joe Bunting, took my
Kingdom Journeys
manuscript and helped shape it into an editable draft. I knew he had the skill set that Andrew needed to get his book written.
And today Joe is in Spain, taking the notes from Andrew that will in several months become the 42nd generation book. It's about time we finished this project. I think it's going to be a smashing success.
Comments (4)
Bout time… that's all I can say!!

so excited to read it! the world needs his book.

Awesome! I am excited about this one.

I remember that trip and I still have the notes from him.I know it is going to be a great book.Love that man's teaching.
Glad you are home safe.Take care.Hello to the family
mary lou
Subscribe to Radical Living:
Receive updates on the latest posts as Seth Barnes covers many topics like spiritual formation, what if means to be a christian, how to pray, and more. Radical Living blog is all about a call to excellence in ministry, church, and leadership -as the hands and feet of Jesus.