Your need for validation
I love Seth Godin's blog – I read it every day. He's a marketer, but his world is bigger than marketing. He does so by keeping it real. He writes in a human way and on a human scale. Today's blog is a good example: Validation is overrated If you're waiting for a boss or an editor or…
I love Seth Godin's blog – I read it every day. He's a marketer, but his world is bigger than marketing. He does so by keeping it real. He writes in a human way and on a human scale. Today's blog is a good example: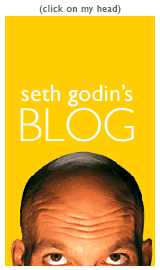 Validation is overrated
If you're waiting for a boss or an editor or a college to tell you that you do good work, you're handing over too much power to someone who doesn't care nearly as much as you do.
We spend a lot of time organizing and then waiting for the system to pick us, approve of us and give us permission to do our work.
Feedback is important, selling is important, getting the market to recognize your offering and make a sale–all important. But there's a difference between achieving your goals and realizing your work matters.
If you have a book to write, write it. If you want to record an album, record it. No need to wait for someone in a cubicle halfway across the country to decide if you're worthy.
Comments (8)
There you go. Doesn't get any less complicated than that.

Every thing I purposed to do in my "Bucket List" I will (God willing) before I step off the planet.

Watch.

and there's some theories & possible verses that suggest that sometimes our validation and recognition will be our only reward.

May God be with us as we do.

Good stuff from two of my favorite Seth's.
Subscribe to Radical Living:
Receive updates on the latest posts as Seth Barnes covers many topics like spiritual formation, what if means to be a christian, how to pray, and more. Radical Living blog is all about a call to excellence in ministry, church, and leadership -as the hands and feet of Jesus.