Called to make incredible pizza
As 2010 comes to an end, it's a good time to ask the question, "What is God calling me to do with my life?" Often he is simply calling us to bloom where we've been planted. Eric Liddel, the Olympic sprinter featured in the movie "Chariots of Fire," said, "I feel God's pleasure when I …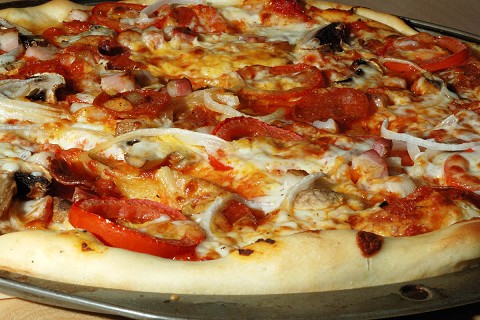 As 2010 comes to an end, it's a good time to ask the question, "What is God calling me to do with my life?" Often he is simply calling us to bloom where we've been planted. Eric Liddel, the Olympic sprinter featured in the movie "Chariots of Fire," said, "I feel God's pleasure when I run." As a world class athlete, he had a platform for his testimony never available to him in his career as a missionary to China years later. Similarly, many of us have been called to minister to those around us every day.
A number of years ago, I wanted to take Karen out for a nice meal. I did some research and found a highly rated pizza restaurant near Atlanta.
The restaurant was located in a strip mall and has just a few small tables in the front. It didn't look like much; we paused, wondering if we should go in. Inside I noticed a number of clippings and plaques on the wall. As I read them I saw that the proprietors, Craig and Karla, had entered their unique wood grilled pizza in an international competition in Las Vegas in the previous year. And out of the thousands of entries from around the world, they had won first prize! Craig had left his position as chef at the Westin hotel to pursue this dream, and it had paid off.
Needless to say, our mouths were watering as we awaited the pizza laden with marinated sun-dried tomatoes, crawfish, and pesto. When at last it arrived, we said grace and sunk our teeth into what proved to be a truly sumptuous pizza. Its creator, Craig, was decked out with a white towel covering his long black hair as a do-rag and a white apron strapped over a belly that had seen its share of pizzas. He stopped by with a comment, "It's so good to see you all praying together."
We followed up with a short conversation and asked Craig if he knew Jesus. He was quick with an enthusiastic response, "Oh yes. He's my Lord and savior. He's given meaning to my life. I pray to him all the time."
After dinner, Craig followed us out to the parking lot to talk some more. "I met Jesus seven months ago when I'd reached the end of my rope. Since then, he's delivered me of so many things."
Craig went on to talk about how he believes his restaurant will be a place of ministry: "I know that God loves my cooking! He loves the smell of it. He loves the dough with olive oil brushed on it! Recently when I asked the Lord what I should do with my life, he showed me a passage in Exodus that talks about baking bread just like I bake my crusts, with olive oil. It confirmed that I'm doing just what he wants me to do."
We marveled at the unvarnished joy spilling out of Craig. "You need to share your story with customers. Is that what you want to do?" I asked.
"Absolutely. I want to expand this restaurant and use it as a way to share the love of God with others," he replied.
Before getting in our car to leave, we laid our hands on Craig and prayed that God would allow him to use his talents for the kingdom. He went back into the kitchen brimming with God's Spirit.
God has called all of us to be missionaries; Craig's pulpit just happens to be his grill. Like Eric Liddel, Craig's talent is world class. He is able to reach out to people in a way that no one else can.
If God made you a cook, then for heaven's sake, let your cooking be for his glory! If he made you a runner, then be one. Whatever your gifting and call, he can use you to bring hope to those who have lost theirs.
Comments (13)
I love reading God's stories written in human lives.
I love this story particularly.

Seth I love so many of your blogs…but I really loved this one! God uses everything for His glory even food! It is all just a tool…Bless you and your dear family!

Love this post! What is the restaurant?? I'm always up for good pizza!

It is great to hear His call. For too many years I didn't hear Him – but I have it now. Thanks Lord for wanting to use me.

SO great. i love imagining jesus taking in a whiff of craig's pizza and smiling as he thinks, "…that's the stuff." thanks for sharing!

Love it, love it, love it…God will use us and all of circumstances, zany personalities and what and who we have and are in life to glorify Him. Thus sayeth the Mennonite Diva…I have notices the seasons may also change, and that's OK as long as we are always listening…

**mArC** The Schifano Tribe

PIZZA and Jesus! Love that story.

fantastic presentation. Very open and informative. Especially good for those at the start of the business process who can take some business lessons when they most need them. Great work.

I'd love to taste the pizza you prepare
Subscribe to Radical Living:
Receive updates on the latest posts as Seth Barnes covers many topics like spiritual formation, what if means to be a christian, how to pray, and more. Radical Living blog is all about a call to excellence in ministry, church, and leadership -as the hands and feet of Jesus.