Debriefing: #7 – Different ways to debrief
I know I said this would be a 6-part series on debriefing, but the traffic on my blog site was so heavy last week, it seems like many of you have a strong felt need for help in this area. There's a lot more to say, so, I'm going to add four more blogs to finish the subject. It was th…
I know I said this
would be a 6-part series on debriefing, but the traffic on my blog site was so
heavy last week, it seems like many of


you have a strong felt need for help in
this area.
There's a lot more to say,
so, I'm going to add four more blogs to finish the subject.
It was the summer of 1975 – my first mission trip. I think there was a campfire as we were
closing out the day. We'd worked hard in
the Guatemalan sun, shopped at an Indian market, and felt stung by the pain of
poverty. Our hearts were full – we
needed help making sense of it all.
The talk around the fire that night was the most important
part of the day, but it wasn't the only debrief. In conversations throughout the day, we
students sought to make sense of what we were experiencing. These were informal Instant debriefs. There are three kinds of debrief and
activities that appropriate for each.
Instant debrief
After a spate of ministry during the day, you process what
God is doing on the spot. These should
be done in groups of five or less. You
want to check perceptions and feelings: "Did you see what I saw? How did you feel about it?"
Daily debrief
100% participation by asking: "Show me on a scale of 1-5 by
holding up your fingers, 'Were you aware of God's presence? Are you tired? Excited? Etc.'
Do
Quick-writes: "Write
anonymously (or not) on a piece of paper taking no more than a minute: What was
a highlight? What was hard for you today? What or who is the biggest challenge for you
on the team? Do you feel like you can be
yourself with this group?"
Share stories. Where did you see God? What did you learn?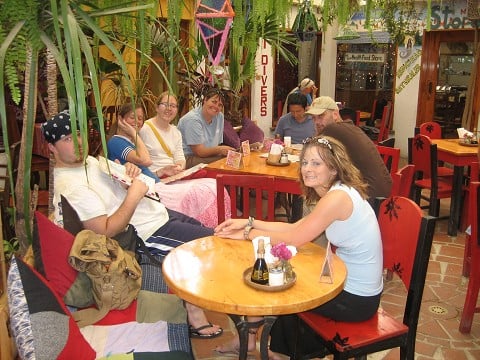 Post-trip debrief
With the entire group, spend at least a day for each month
on the field.
Bring your
laptops and share your photos.
Bring your
journals and share your stories.
Time of
silence with journals, asking the Lord to speak.
One-on-one
coaching sessions: What's next? How will you make this a lifestyle?
Teach them to share their summary of
the trip (answering when someone asks you, "How was Africa?"). Do a 60 second version, a 3-minute version,
and a 20-minute church presentation.
Coach
people to schedule an appointment or date with a friend where you ask the
friend to just listen and ask questions for a couple of hours.
Next blog: Why debriefing is important