How do I ever trust again?
I'm in Guatemala with our amazing L squad. Yesterday I sensed that God wanted to do something with the squad. At breakfast, I sat at a table with six women. I asked if we could share the stories of our family of origin. It got deep and it got messy quickly. One by one they shared their sto…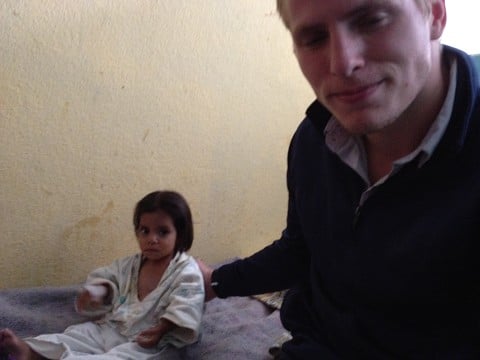 I'm in Guatemala with our amazing L squad. Yesterday I sensed that God wanted to do something with the squad. At breakfast, I sat at a table with six women. I asked if we could share the stories of our family of origin.
It got deep and it got messy quickly. One by one they shared their stories. Of the six, only one of them had not been deeply betrayed by her father.
As a squad we later went into a time of worship. I read Amie Gallegos's blog post (that I posted yesterday) to them. I sensed that God would use it to unpack some things in them.
Afterward, they began to share. They shared from the gut. I was amazed at how honest they were. My generation would never share that deeply.
Tears began to flow. Apologies were offered for how we as men had treated them as women.
It could have gone on all day. But people were waiting for us and we had to break it off. As we prayed, I got a picture of an egg that God was cracking. It had a hairline fracture in it, but he wanted to crack it all the way open and make an omlette of it. As tender as the moment was, I felt like if we could continue with worship in the evening, he would take us back to that place.
The day was great. We went to seven different ministry sites, including the hospital across the street. Anton and Cathy and I visited children like little Maria whose mom had died eight months previous and who suffers from malnutrition.
She'd been abandoned, left in a place of comfortless pain. Just like many of us in the squad. We were a squad of Marias suffering from emotional starvation. But hungry for healing.
Then last night, after worship, the Lord took us immediately back to where we'd been that morning. I couldn't believe how honest we were being with one another. The theme of the night was betrayal, depression, suicidal thoughts and attempts, and God's redemptive hand. In two cases they had attempted suicide, one with four bottles of pills and two with knives that bent and wouldn't go in when they tried to stab themselves.
Stories of sex, abuse and betrayal were the norm. And then the guys began to ask the women to forgive them. They shared how they had begun to repeat the cycle. The things that had been done to them they were beginning to do to others. "I'm so so sorry," one guy said, "will all of you women forgive me?"
It happened over and over again. I was weeping. Most of us were.
And the women spoke to the men and said, "I forgive you." They said it in ways that were personal and heartfelt. You could feel the grace beginning to flow out.
It was as intense a night as I've ever seen on the race. The courage of these young people to trust after what they'd been through blew me away. Where did they find this courage to trust these relative strangers around them? How could they go to these dark places so quickly with one another?
I told them, "I said at the beginning of this race that I don't fall in love easily and it's going to take me a while to love you. But tonight, I think that I already do." I've never been more proud of a group of people.
We still have so much to do. God has a lot of people queued up for heart surgery. And the question, "how do I ever trust again?" still hangs heavy in the air.
But for many – for the first time in years – there is hope. There is hope that, in fact, healing can happen.
So many of you are right where these guys are. You're asking, "how can I ever trust again?" I don't know what the answer is for you. But last night I saw that it's possible. God weeps with us in our dark season of betrayal. He's good and wants to lead us back to a place of hope.
Comments (15)
oh, the loveliness of God's healing… praying for all of you… and all of us..

Thank you so very much for sharing this journey…

Please let these guys know that their pain and honesty and passion is not just helping redeem that group with you – but it is also spurring many conversations out here with others…

God is using their stories to usher in redemption, restoration, and beauty for others too. He is using their pain in beautiful ways.

Thank you….

Intense! Love it! We dare not venture into these waters where sharks once swam and cut chunks of our hearts away. How wonderful when we get into the turbulent waters of our life – Jesus saves! My heart is for all of us to get healed through openness & confession. Once again a young generation – Jesus People of the late 1960's & early 1970's – Facebook generation…are leading the way, it is not too late for all of us…here we are Lord…send us into transparency!

I will be praying for your team. God is sovereign and amazing. May God continue to richly bless you today, Barb

…saw this on the parents' page…it sent me to my knees…these "kids" will end up teaching us more than we've ever taught them…to see life as the Father does…to see each other as He does…let them know that He's using them not only on the Race…but to bless those of us at home, too…

Wow! Thank you for following the leading of the Holy Spirit in directing these racers to go deeper and deeper. And thank you for sharing these stories. To think this is just week 1! I am so grateful my daughter is there and am praying for healing for them all! Beauty from ashes!!

God's moving and you all are obedient. May it also be so in the other teams on the Race. It's great to hear about L Squad. The reality is that we don't have (and we don't need) the same dynamics in every group; we just need the Holy Spirit to move and courageous men and women, our racers, to follow in step with the Spirit. He will use our squad leaders and team leaders, just as he used others surrendered to the process of Christlikeness. No worries, other squads…God is unleashing and freeing you as well. He shows up where He is honored and hearts are open. We are watching, listening, and praying that in some small way, our hearts will sense the freedom of Christ as well. Keep in step with the Spirit…the best place to be!!

Can't wait to hear more details! I knew you would fall in love. 🙂

I'm finding myself in the same situation and asking God to heal my broken heart and put the broken pieces back together again and make my life something beautiful for His purposes and His glory!
Psalm 40 says:
I waited patiently for the Lord; and He inclined to me
and heard my cry.
He also brought me up out of a horrible pit, out of
the miry clay, and set my feet upon a rock, and
established my steps.
He has put a new song in my mouth- Praise to our God;
Many will see it and fear, and will trust in the Lord.
verses 1-3

Heart felt thoughts & prayers r with all u guys i love each & everyone of u may God continuely Bless each & everyone of you job well done u go guys always n my thoughts & prayers i love u all even if i don't Know each one personaly i will b praying for u all!!!!

Is it not amazing what God is doing in these end times??? Yokes are being broken, strongholds are being shattered and destroyed….I believe these are the triumphant reserves God is preparing to send into the nations to call forth the brides of Jesus Christ. I am soo excited. Woohooo
Well done Seth. Stay focused man of God!!!

Long before Bryan ever left for training camp, I began my "journey" by asking the Lord to start a revival in my own heart. Just before reading this update, I too, was facing my own heart which has been shattered by past abuse. Like the racers, I no longer want my past to interfer with all that God has for me. Until now, I was feeling very alone; the things you've written have touched my heart & now I realize that the young people & parents are all in this together.

Thank you Lisa Norooz for being courgeous enough to share your own story, that helped me to be honest.

Seth, as I told you at the breakfast table, we will not forget to pray for you & Karen & all the coaches. God bless each one of you for your faithfulness to Jesus.

In Him,
Debra

Those of you who have just commented, thank you for your prayers. I have shared your comments with your kids. I'm believing that we've just scratched the surface of what is possible.

This morning I read this blog http://mackenzietamayo.blogspot.com/2012/01/adult-child-of-divorced-parents.html about divorce to the squad. So many here could relate. And freedom continues to break out. I challenged them to use this year as an experiment to learn how to walk in intimacy with their team so that their parents' issues don't become theirs. And I believe they will do just that.

Seth,

REALLY enjoyed the blog. I am so happy you are there with them as there coach and I it seems like God is already using you to do His work. To be honest I never have read your blogs before (nothing personal just didn't think of it) but I think I really enjoy your posts. I look forward to reading more. It was great seeing you in Chicago and I look forward to seeing you again some time soon.

Billy

I'm so refreshed and motivated by this gracious kingdom moment.

Thanks guys! Thanks Dad!!
Subscribe to Radical Living:
Receive updates on the latest posts as Seth Barnes covers many topics like spiritual formation, what if means to be a christian, how to pray, and more. Radical Living blog is all about a call to excellence in ministry, church, and leadership -as the hands and feet of Jesus.