Ryan's miraculous healing
I first met Ryan Hughes outside the Catalyst conference last fall. His story is so amazing I had to share it. "In 2007 I got laid off from my job with Delta based out of Tel Aviv. When I later saw my doctor, he figured the symptoms I was experiencing were because I was depressed. But I …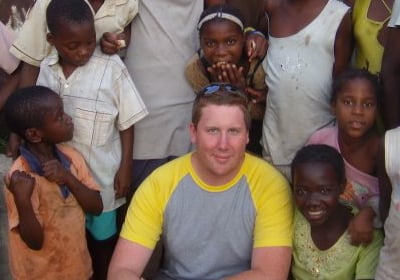 I first met
Ryan Hughes
outside the Catalyst conference last fall. His story is so amazing I had to share it.
"In 2007 I got laid off from my job with Delta based out of Tel Aviv. When I later saw my doctor, he figured the symptoms I was experiencing were because I was depressed. But I felt like it was something more, so I went to another doctor," Ryan began.
This time the diagnosis was a hyperactive thyroid. At that point the doctor ordered up a battery of tests. When they got back the diagnostics, the doctor called him to come in to "review the results."
Ryan sensed that something was wrong. "My heart was pounding as the doctor systematically read through the diagnosis. When the doctor said the word 'cancer,' I said, 'Wait a second. Go back. Did you just say cancer?'
"Yes. It's in the lining of your throat. Stage 3 or 4. We'll need to operate quickly," the doctor responded.
Afterward Ryan said, "I felt like I was run over by a truck." He went home, took a bunch of pain killers, and blacked out.
His best friend Corey came over and discovered him. "When I came to," Ryan said, "Corey showed me Scriptures about healing and prayed for me. "After he left, I discovered he'd left a letter for me telling me about how much God loved me. As I read it, I knew it was true. I bawled like a baby."
Later he drove out to Corey's office. Sitting in the parking lot, he asked Jesus to be Lord of his life.
Ryan's chemotherapy and radiation treatments about killed him. For seven months they burned out the lining of his throat with a laser, cutting around the larynx. "You've got an 80% chance of losing your voice," the doctor said. And so he did. He wasn't able to talk.
At last the doctors thought they'd gotten all the cancer. But it was a misdiagnosis. Further tests showed that the cancer had returned and that he had just three months to live.
At that point, Ryan knew had a choice. He could either give in, or he could begin living as though he was going to be healed. He decided to change his life. He went skydiving, he ministered to the homeless, he became a top salesman.
Still, the cancer continued to grow and Ryan was admitted to the hospital. One night Corey came to visit. "I've got this idea," he said. "There is a conference in Las Vegas with a guy named Bill Johnson. God told me we should go there and you'd be healed."
"That's crazy, Corey," Ryan said, "there's no way the doctor will let me out of this hospital tonight."
But Corey wouldn't let go of the idea. So, Ryan relented and put on his clothes. Together, they snuck out.
"We took the red eye flight to Las Vegas and then went directly to the conference. When we arrived at the venue, we saw thousands of young people watching Bill Johnson speak. As we were walking in, suddenly, Johnson stopped and pointed right at me," Ryan said.
"You, there in the back. God says he wants to heal you of cancer right now!" Johnson exclaimed.
Ryan went to front as the whole auditorium began to pray for him. "The last thing I remembered, I felt a surge of power and warmth rush through my body. Then I blacked out and fell to the floor."
When he came to, Corey asked him, "Do you believe it?"
But back at the hospital, the doctor was irate and scolded him for leaving the hospital.
Ryan said, "But I got healed. I don't need the medicine anymore."
The doctor ordered a new battery of tests and told him to come back in three days. When he returned, the doctor had a group of other doctors gathered around. He put the original slides up of Ryan's throat and asked them for a diagnosis. "Cancer," they said. And then the doctor put showed them the more recent slides. "You can't explain this," he said. "This is a complete healing!"
The doctors were flabbergasted. The last woman to look at the slides began to weep.
Ryan said, "I felt so excited! I was completely healed! I felt like I won the lottery."
A few months later the doctor had another case like Ryan's and realized that only God could do such miracles. He gave his life to the Lord. As Ryan said, "God didn't just heal me from cancer, he used it in so many ways. The doctor is a believer and I have a new identity. I'd never want to do it again, but I have to say, the cancer was worth it."
At that point, he knew his life was not his own to live. "I felt like God had healed me for a purpose. I prayed, 'God you know the desires of my heart! You know my heart for the
NATIONS!' Right after that, I found out about the World Race and signed up. Little did I know that my prayer and
that one click of the mouse would change my life!"
Looking back over the last four years, having experienced the power of God in such a dramatic way, he's intent on taking the life God gave back to him and using it to build the kingdom around the world. Ryan has become a force to be reckoned with!
Comments (16)
so inspiring!!! i met ryan last year in cambodia – never knew this story, so so cool!

a.soundararaj kirubakaran

Praise the Lord,
God need your ministry all over the world.In India need your ministry.Thank Lord Jesus increasing every believers and ministers faith through this testimony.

One more reason to love Ryan and how his reassuring voice floats across the offices. Thanks, Seth.

Praise God! Thanks for sharing this Seth!

Wow – I got chills all over!

Wow! …he has a heart for the nations …prophetic maybe? Given his voice back with an intimate knowledge of Gods desire to heal. Ryan's prayers for the nations come with healing on their wings. So very cool!

Beautiful! HE is so good!

AMAZING! Praise the Lord!!

Beautiful. This story steals all words because all you can do is sit in awe of our God. Love it and feel blessed to have read it.

Six years ago wife, Karen, was diagnosed with stage 4 colon cancer and given a less than 5% chance of survival in 5 years. Some friends from our church asked us to come over to pray over Karen and we knew God had healed her. She had her surgery a few days later to remove 1/3 of her liver, 18 inches of her colon, her gall bladder and dozens of lymph nodes. She did a regimen of chemotherapy. One year later, the doctors agreed with what we already knew…Karen was healed. Last summer, she had her 5 year check up. Instead of being dead, as most of her friends from her cancer support group, she was still completely cancer free! If you could see her, you'd never know she even had cancer. God is Faithful and True! Thank you Lord for delivering my precious wife and mother of my 5 children!

Wow – speechless! Not just the healing, but the way it was used…

What an awesome account of how God worked in his life!

Praise God for his love and power!
He is a good God who gives a new life and a new hope to those who don't!

Wow! I needed to hear a true story like that again. Thanks for sharing it.
Subscribe to Radical Living:
Receive updates on the latest posts as Seth Barnes covers many topics like spiritual formation, what if means to be a christian, how to pray, and more. Radical Living blog is all about a call to excellence in ministry, church, and leadership -as the hands and feet of Jesus.