Witnessing a Miracle as God Heals a Racer
It's easy to be a skeptic in America. But as Elina Landin reports, seeing is believing. She witnessed God heal her teammate. Here is her report. The first day we got to Guatemala, I witnessed a miracle. I've always leaned more towards the side of skepticism, especially when it comes to …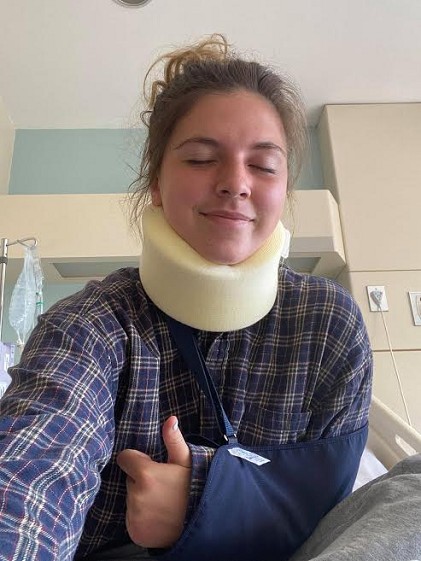 It's easy to be a skeptic in America. But as Elina Landin reports, seeing is believing. She witnessed God heal her teammate. Here is her report.
The first day we got to Guatemala, I witnessed a miracle.
I've always leaned more towards the side of skepticism, especially when it comes to spiritual miracles. I could hear a thousand stories of miracles happening and not believe any of them.
My scientific mentality had given me a subconscious skepticism to everything  regarding faith. 
That first day in Guatemala, shattered every conception of what a miracle was. 
My friend and fellow squad mate, Bri, had fallen through a roof about a week prior. She fell a good 12 feet onto hard concrete. Her body was bruised with torn ligaments and bad sprains. She wore a sling for her arm, a brace for her ankle and a neck brace.
Walking through the airports of Guatemala was a scene – Bri in a wheelchair, arm sling and neck brace. She could barely walk and was just enduring a lot of pain. 
We finally arrived at the Guatemala base after a long and uncomfortable travel day for Bri and her injuries. The staff met us with open arms, smiling faces and passionate spirits. Within moments of meeting them, their passion had become infectious and our whole squad was feeling the excitement. 
One of the Guatemalan base staff members, Gabe Sanchez, approached Bri and asked her what had happened. 
As soon as Bri had finished her story, Gabe immediately responded, "Well can I pray for healing?"
Bri responded with a hesitant but eager "yes." Many times people said that they were praying for her as more of courtesy. But Gabe came in with authority and faith. 
Some of us watched as he prayed a bold but simple prayer over each body part that was in pain. 
First, he told her to take off the ankle brace and he prayed for her ankle. 
Then, he told her to take off the arm sling and he prayed for her arm.
Finally, he told her to take off the neck brace and he prayed for her neck. 
I watched with little expectancy. Bri's face started to shift from apathy to confusion as she started to start moving her limbs in unbelief. The confusion quickly turned to astonishment as she stretched and moved her arm and shoulder all the way around, her ankle with ease and finally her neck.
The crowd looked around at each other in amazement and unbelief, eagerly asking Bri how she was feeling.
She could not utter any words; instead her actions spoke for her. She got up and started jogging around laughing and crying in amazement. She was actually, truly healed. 
We all were beside ourselves in unbelief and confusion. Jesus's healings were something we always read about, but they never actually happened to us! 
I caught myself in a strange contradiction. My eyes had not deceived me, this wasn't a second-hand story, the proof of miracles were right in front of me. Yet there was that part of me that simply did not comprehend what had just happened. 
Why was it that miracles could be performed right in front of me, and I could still deny it?
I realize that I do this with more than just physical miracles. When I allow the anxiety of the future to trump my trust, I deny God. 
When I rely on solely my works and ignore the sovereignty of God, I deny Him.
…
I am reminded of Jesus – even His closest disciples and the people that saw with their own eyes, still did not truly believe. Would I be one of the skeptics? Would I be someone who watched the Son of God and turn the other way? Would I be a prosecutor of the one and only perfect and holy being?  
God met my disbelief with understanding, love and patience.
He had so much more in store than simply healing Bri to bring an end to pain. He helped me see MY pride and MY disbelief as well. 
Comments (12)
Gloria a Dios. Thank you Jesus!!! Thank you Gabe for obedience in prayer.

Thank you for sharing this testimony. I can completely relate to being in unbelief at times despite what the Word says based on a physical symptom or circumstance; this story is a reminder His Word is the truth and people like Gabe are living disciples.

WOW, that just sounds like the Lord. He never changes!!! Thank you for sharing.

Thank you for sharing. Its 3:53 AM in the time zone I'm at. I woke up because I've been wrestling with God about many situations. This story of skepticism of God's sovereignty has really encouraged and challenged my heart. You'll never realize how many people your blog touches this side of heaven. thank you.

WOW!!!! Praise God! Praying this continues to stir others' faith, as it just did mine! Thanks for sharing Seth.

Powerful. Our need to understand inhibits God. He'll let us coddle our doubt till we cut loose the ball and chains of cynicism.

That's our Jesus!
Thank you so much for sharing, Seth! What a great testimony of the "signs that follow those who believe".
Mark 16.

Thanks Seth for the reminder of how God works in each and every one of us. I certainly understand the skepticism, but with knowing all of the miracles performed throughout the Bible, I have always been one of those who believed without seeing. However, for young people today, seeing something right in front of them like this can be a life changing experience not just for them personally, but for all those who cross their paths in the future because as I often remind my son, who is also in the Squad E family in Guatemala, that God has amazing plans for each and everyone within that God-loving family and all he has to do is allow God to guide him along his future journey. This is a true testimony for what my son calls the "Now Generation" to hear. Thanks again for reminding us that God is good all the time and all the time God is good.(from God's Not Dead) God is certainly alive in each and every one of those young men and women. They are a parent's blessing.

You're welcome, John. In this age of constant cynicism, we need fresh reminders of God's power.

You know what, I am one of the skeptics, one of those that don't truly believe it'll happen more often than not. Maybe that is something I should take in full confidence in moments like these, that God can work pass my human ignorance and step out in faith that He will move even when I don't see how it could be possible. Thank you for carrying on the post Seth, I am definitely encouraged that this is possible, sometimes (or ESPECIALLY) despite my unbelief. ps. thats probably a weird/backdoor way to approach it, but it's a good thing that we serve a weird and sometimes backdoor God.
Subscribe to Radical Living:
Receive updates on the latest posts as Seth Barnes covers many topics like spiritual formation, what if means to be a christian, how to pray, and more. Radical Living blog is all about a call to excellence in ministry, church, and leadership -as the hands and feet of Jesus.