Watching cataracts fall off a blind man
Jess Orr-Davis is a young woman I've been mentoring some this past year. She is a woman of integrity – you can believe what she shares. I always look for those who are willing to follow Jesus to the darkest places on earth and trust him to heal the land. In her new book, For Love's Sake, she desc…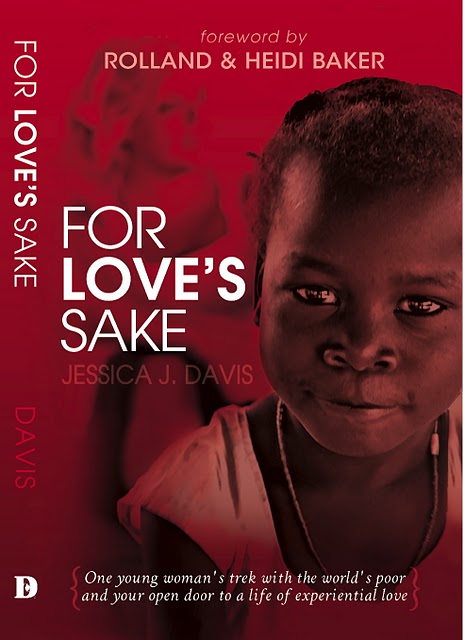 Jess Orr-Davis is a young woman I've been mentoring some this past year. She is a woman of integrity – you can believe what she shares. I always look for those who are willing to follow Jesus to the darkest places on earth and trust him to heal the land. In her new book, For Love's Sake, she describes how that happened as she went on an outreach with Heidi Baker in Mozambique. If you like this story, let me encourage you to get the book.
As I whispered "Boa noite" (Good evening) to the man in Portuguese, he smiled. I looked into his large light blue eyes. Cataracts had taken them over. The white in his eyes was stained with yellow, and extra clear and white tissue covered the rest in large clumpy layers.
I looked at the girl next to me, and without words, we jumped into the adventure together. I put my hand on the man's shoulder at first. I felt like such a child, so I waited to hear any ounce, any whisper with which Jesus might rescue us. I couldn't seem to hear anything but the sound of my own rapid heart rate that felt like it was about to implode from my chest. With nothing, we prayed, "Jesus, cura elle. Vem Espirito Santo. Cura." (Jesus, heal this man. Come Holy Spirit and heal him.)
I peeked out of the corner of my eyes to see if anything was happening. I didn't know if 1. I was feeling God's presence or 2. I was shaking from fear of the unknown that I was immersed within. Either way, we kept praying. And each time, our faith would expand and multiply. Why was that? It was because we were seeing and encountering faith in action right before our very eyes.
As we continued to ask the Holy Spirit to come near us, I remember looking back into the man's eyes. I was shocked at what I saw in front of me. The cataracts and extra tissue covering his large eyes was beginning to fall off. Almost seeming to melt away and fall like large heavy tears down to the African dust in front of him.
The village was in complete amazement. Many people came running just to know this Jesus that could heal the ones they loved.
"Time out!"

I had never in my life witnessed a blind man seeing! I didn't know if he was getting better or worse. All I knew was that I could feel my pulse about to jump through my veins!

As we watched and waited, the man said he could see some blurry figures. He had not been able to see anything before. I wanted to leap out of my skin! We knew then that something was happening beyond our control or doing. This night was getting interesting!

We prayed again. And each time, more "gunk" would fall from the man's eyes and the more defined those "blurs" would get.

Heidi came over to check on what was happening. She asked the man how he was doing. He said he could actually see some things, but not clearly. That was enough for her. She laughed with joy and said, "Keep praying, he can see better and better!"

A few minutes later, I looked again into the man's eyes, and the bluest of blue became grayish brown. It looked like he had put contacts in. We watched as his eyes went from blue, to grey, to brown. Each time they would change, he could see more and more.

By this time, we did not have to ask how he was doing. He made sure to give an instant update each time. "I can see!" And now mirrored in his eyes, I could see amazement and wonder shared within our joint stares. What in the world has just happened to us?

I wanted to fall on the ground and collapse in the deep red dirt. Part of me wanted to run in circles. Other parts of me wanted to just cry and thank Jesus. I was in awe and utterly speechless. How on earth was I supposed to react?

As I glanced through the dim lamplight – which was really a tiny light bulb hanging from the truck with a tattered rope we had with us – I could see Heidi praying over a few children about ten feet away. Suddenly, I heard, "Yesu". A little girl was mute from birth, and I was there to witness her first words as she was completely healed, "Jesus".
The village was in complete amazement. Many people came running just to know this Jesus that could heal the ones they loved.
Buy the book
here
(
50% of sales go to missions)
. This stuff is real and we need to start doing it.
Comments (11)
Thank you Seth!! This is so encouraging!

These stories are so amazing, so riveting and also provocative. Yes, provocative. They provoke me to abandon my inhibitions, my rationalizations and grab hold of Jesus in ways I think I am already, but clearly am not. Why do these stories amaze us Westerners so much? Because we haven't been forced to depend on Jesus to the fullest. Thanks for the faith expanding reminders.

Yes Lord! I embrace the eastern world view and I continue to pray for the sick and diseased. When I read these accounts, it makes my spirit jump up and say "YES LORD, SIGN ME UP!"

I'm going to order this book.

"Oh Lord, will you do this more in my life – our lives. Come Holy Spirit…"

Seth, we just had a similar experience in Nicaragua. Our medical team always has opportunities to see God prove them unnecessary.
A woman blinded with cataracts was released from that bondage on our recent trip. Here is a short rendering. (wish I could attach the picture too)
Taking tiny steps she shuffled into the hot and busy church building where a make shift medical and vision clinic was set up. Her daughter had led her there thinking that maybe the visiting American doctor could help. Sitting down in the vision center our team members could see that her eyes were covered in white cataracts. Her daughter said to just give her the thickest and strongest pair of glasses so that maybe she could still see a little longer before the condition took all her eyesight. Not satisfied with that prognosis some the team decided to pray for her healing instead. After this first prayer she stated she could see better but was not completely released. So the prayer intensified to include an evil blind spirit that was hindering her sight. As she realized what they were praying about she joined in rebuking the evil spirit and resisting it herself. When her eyes opened…no white covering was to be seen. "Hey, Mom, wait!" called her daughter as she hurried after her mother now walking quickly to see what has been denied to her for many years. God is so good!!!

This is nothing more than Kingdom work. I have only witnessed physical supernatural healing twice in my life…one healing was breast cancer and the other a brain tumor. To this day, these two ladies are healed! How much more healing could I have witnessed if I had the faith needed to manifest it in someone's life? This is an excellent story that moved me to the core. Keep up the great work…..and let us never forget who the Great Physician is…He is just waiting patiently for us to come forward with the sick and dying!!! Thank you for sharing your story…

WONDERFUL amazing God … come Holy Spirit, let's see you do even more around the world and in our hearts!

**mArC** The Schifano Tribe

praise jesus, what an amazing story!

Looking forward to meeting Jess soon.

The joys of divine presence and power… I love that Man of Galilee. He is the same yesterday, today and forever.

I've recently watched Furious Love and Finger of God. This is the stuff that's been on my heart lately……releasing the Kingdom of God. Not the one of church attendance, reading the Bible, "being good", but the one where Jesus said we'd do even greater things than he. The one where everyday is a day of raising the dead, healing the sick, seeing the lame walk.

I can't describe how this stirs my heart. Now to get up and walk it.
Subscribe to Radical Living:
Receive updates on the latest posts as Seth Barnes covers many topics like spiritual formation, what if means to be a christian, how to pray, and more. Radical Living blog is all about a call to excellence in ministry, church, and leadership -as the hands and feet of Jesus.