An amazing, historic day in Haiti
We didn't expect this. We expected the devastation, the crumbled buildings, the tent cities. But we didn't expect the hope. We arrived in time to witness something I've never seen before – the pastors of Haiti called for three days of prayer and fasting and the people responded. &nb…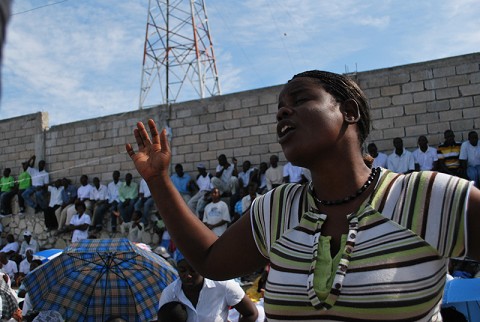 We didn't expect this. We expected the devastation, the crumbled buildings, the tent cities. But we didn't expect the hope.
We arrived in time to witness something I've never seen before – the pastors of Haiti called for three days of prayer and fasting and the people responded.
Everywhere we went this morning, under tents, under trees, in the squares, in the rubble, were gatherings of people praying and singing.
We drove to a gathering our translator estimated to be 6,000 people. A man was at the front talking. As he stopped and as the people began to sing and to wave their hands, we could feel the Spirit of God blow over the crowd and through our hearts. You talk to any one of them and they have lost someone. Maybe a wife, maybe a father or a sister. But here they were, worshipping.
As I walked through the crowd a man said something to me in Creole. Not understanding, I kept walking. He said it again – I could tell he wanted an answer. I looked at my translator and he said, "He's asking you, why aren't you clapping?" It was true. Me, the American, the outsider, the reporter, watching. It wasn't appropriate. The people were there to respond to what God is doing in their land. God is pouring out his Spirit and the appropriate response is clapping for starters.
In every church that hadn't fallen down, in almost every open area, people were gathered in crowds that spilled out into streets, praising God, singing and praying. And it demanded a response – engagement. I suppose it's like heaven in that way. If the angels are praising God, we'll be compelled to join them.
Later we walked by the front of the now-collapsed Presidential Palace where hundreds of thousands gathered to worship. The crowd was beginning to disband. And at Pastor Christian's church, an estimated 9,000 sat on the ground under drooping blue tarps. Somebody saw me in the back clapping to the music and asked, "Why aren't you dancing?"
Back in the van, we drove through the city center, overwhelmed by the devastation. Tent cities were everywhere. Some highly organized in new, white half-cylinders from the UN or USAID. Others, ramshackle, made of rags, sheets and scraps of plastic. A large train terminal, impressive for its colonial architecture, sat at a cockeyed angle – leaning precariously. Some of the buildings had collapsed forward into the street, poised like barges being launched from docks.
We passed people in shoving, angry lines waiting for large white bags of flour. Everywhere, people here are on the move, trying to find a way to survive – negotiating a world turned upside-down. But the crowds who came to pray, the Haitians who by the hundreds of thousands spread out from every still-standing church and meeting tent on what seemed every other street corner testified to another reality.
Something spiritually historic is underway. The cry of a desperate people is rising up to the heavens – calling out for mercy, crying out for God, shouting out for the arrival of the soon-coming king. And, today at least, God responded. His Spirit blew through the tents in ways that sent you to your knees in response. In 30 years of missions, I've never seen anything like it. It's the thing you read about it books. It's the thing you hope for but sometimes grow cynical about ever seeing. And it's happening here, now.
Haiti is arising – a month after the greatest natural disaster of our time, a new and hope-filled day is dawning.
Follow more from this trip on Facebook (you don't need to have an account to read the different reports). Below is a video report from me (for more of these videos from the team, visit Clint's blog.) You can also sign up for prayer updates from Haiti.
Comments (23)
Praise the Lord! So glad you are there to experience this! And all of this on the traditional 'Festival' weekend! God is moving and rebuilding that nation and its SO EXCITING TO HEAR ABOUT!!!!! Thanks for sharing Seth!

Amazing, God is working among broken people. Since the quake we've been praying for a new Haiti. We grieve that it comes with such horror and thrill at your reports of hope.

Amazing grace from an amazing Lord for an amazing people!
Thanks for the praise report.

Hallelujah! I believe that God is bringing about a revival and that this is a year of healing. Praying for your team. May the Lord continue to work in and through each of you. Amen.

Thank you so much for sharing this wonderful news. Praise God!

Love you Dad!
So blessed to have a kingdom man as my father! Can't wait to hear more about it when I'm home in two weeks!

Estie

YES, YES, YES – this is so beautiful to hear! God ALWAYS works good from evil, hope from suffering, healing from brokenness – if only we'll respond with a humble, honest and obedient heart!! Praise God that His Spirit is moving among what sounds like a growing number of haitians as they obey His word to praise Him in the storms and darkness of life and wait expectantly for the surprising ways He will deliver.

May we all play the role we're supposed to in the coming months and see a nation no longer known for its voodoo and demon oppression, but turned around by the power of a living God … and known for one of the greatest revivals in modern history.

Wouldn't that be just like our God?

What an amazing report. Never expected to read anything like that from there so soon. They are way better at dealing with hardship than me. Awesome.

And the "Clap Your Hands for Haiti" campaign is birthed…

I fell His spirit even now as I read this and pray… He is truly amazing!
God bless you and all those around you…

"In the midst of the greatest darkness, the greatest light will come"
God has impressed this phrase again and again upon me for the past couple of years, it was my jumping point for Thailand and I keep seeing the evidence of it everywhere. What He is doing in Haiti right now is just another example. Man, it is like a petri dish for His glory and power to be made manifest in a place! The key is desperation. I pray that this move will not end when the rebuilding begins, but truly be a shift in the spiritual for this nation.

Thanks for being there and bearing witness. Praying for you all.

God is full of surprises isn't he? I wish I was there to see the Spirit of God move…so amazing. Thank you for this eyewitness report. Somehow through your story I can feel the Spirit move through me too. I am worshiping here in Uganda with you!

Wow daddy! That's so great, thanks for the encouraging update.

"Haiti is arising – a month after the greatest natural disaster of our time, new and hope-filled day is dawning."

Wow. Cannot help smiling. This is Hope borne of God.

Isaiah 49:23 — "Then you will know that I am the LORD; those who hope in me will not be disappointed."

Hey thanks for this post Cheryl! It made me click thru to see who posted this great verse – just what I needed to climb out of the pity-pit I seemed to have dug for myself today…and good to read this exciting blog again too…thanks!

This has to be an incredible experience to witness this. You have seen alot in your many years of mission work… so to hear this from you is quite moving and amazing! Thank you for sharing this report filled with "hope"…
Prayers and Blessings to you and all of the AIM people in Haiti right now. Sue Draughon (Steph's mom)

OH MY,I wish I was there.My husband & I was just talking about you & if you were there already,& yes you are.Praise God for the work that is beening done there.How humble are this people,Thank-you Jesus for the work that YOU are doing in their life.
mary lou