How World Race Partners to Help Ukraine
When Nick Lam went on the World Race, he had no idea how it would change him. Yesterday he drove a van that took a much-needed load of food to Kyiv, Ukraine, part of a network of partnerships that is making a big difference. Nick's life has changed radically. His team team leader Pierce of A…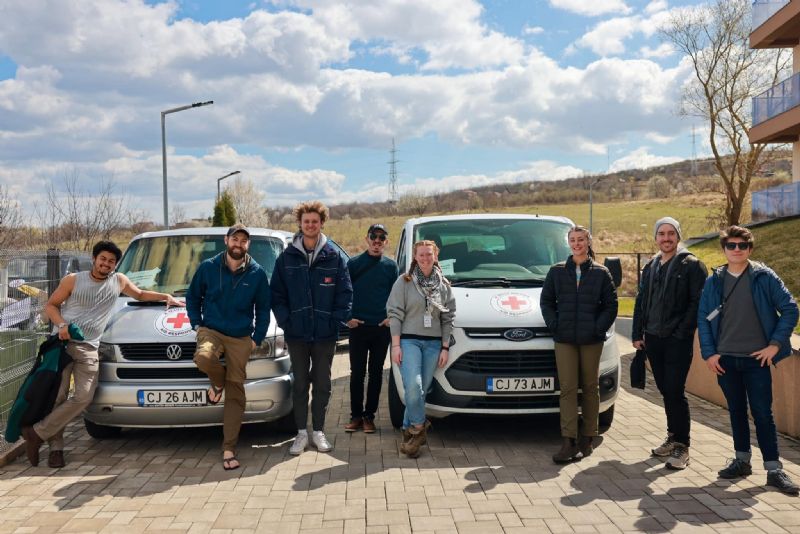 When Nick Lam went on the World Race, he had no idea how it would change him. Yesterday he drove a van that took a much-needed load of food to Kyiv, Ukraine, part of a network of partnerships that is making a big difference. Nick's life has changed radically.
His team team leader Pierce of AJM filed this report from Kyiv:
We are all safe in Kyiv. Cole & Nick are excellent to have along. I had 6 hours of driving yesterday with Cole and he is a great guy!
One of the vans popped a tire at a checkpoint tonight just before curfew near a bunker here. We got out of the car and Nick was SO intentional in talking using Google translate. Me and him ended up drinking coffee with the soldiers and Nick even got to ask them at one point if we could pray for them. I was astounded by how bold Nick is for his age.
After the military fixed our van, then then led our convoy to our destination since it was close to curfew.
It was a really cool moment to see God moving through Nick.
So many partnerships came together to make this happen. Here's a partial list:
Nick's parents – who said yes when he asked them for their blessing.
Megan Parham, Nick's leader, one of many people who have invested in Nick during his time on the World Race.
Raul Costea, our long-time Romanian partner who began taking in refugees through his base in Craiova.
Ron Campbell, who flew with his wife Darla to Cluj, Romania to check out ministry partners near Ukraine.
Pierce Westfall, director of AJM, who has led the team in Cluj
OM Leaders in Ukraine, who run a warehouse outside of Kyiv and have networks throughout the country.
Donors around the world, who help fill up each van at a cost of thousands of dollars and speed it on with their prayers.
It has taken a lot of people to bring aid to the people of Ukraine. Nick is thankful to be one part of the body of Christ reaching out in compassion to help so many Ukrainians who no longer have a home and are now fighting for their country.
Comments (2)
wow. amazing. Way to go Nick. I thank God for him!!!

What a great picture of God's goodness at work through those who move forward trusting Him.
Subscribe to Radical Living:
Receive updates on the latest posts as Seth Barnes covers many topics like spiritual formation, what if means to be a christian, how to pray, and more. Radical Living blog is all about a call to excellence in ministry, church, and leadership -as the hands and feet of Jesus.