How you mobilize one person to God's agenda
I don't know much about Stacey, but I know that she'd never met or cared about anyone like Busi. Jesus cared about Busi and wanted someone with human skin and hands to go to Swaziland to show her that, so he used Stacey. Busi's death marked Stacey for life – she can't go back. Stacey's mobiliz…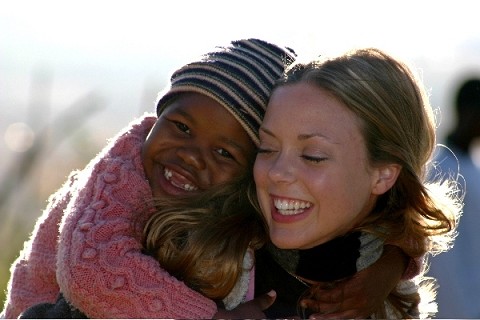 I don't know much about Stacey, but I know that she'd never met or cared about anyone like Busi.
Jesus cared about Busi and wanted someone with human skin and hands to go to Swaziland to show her that, so he used Stacey.
Busi's death marked Stacey for life – she can't go back. Stacey's mobilized for God's agenda – the agenda He spells out in Isaiah 58.
More bored young Americans like Stacey who are looking for purpose need to meet their "Busi" and begin living the abundant life God promises to those who will care for His poor.
Busi's name means "blessing," and she was that to Stacey. She was three or
four years-old and loved to dance. Busi's family lives in a very small mud hut on top of a
large hill. Stacey, an American on an AIM team, found
the mother and grandmother in the house, sitting on the floor, crying.
In Swaziland,
such mourning is an everyday occurrence.
Our team has learned not to schedule events on Saturdays, because that's
when funerals are held.
Busi was one of Stacey's favorite students. God uses these kinds of tragedies to break
our team members' hearts in the same way that His own heart has been broken – I
believe it's the greatest mobilizer for missions there is.
Stacey shared the following after hearing of Busi's
death after she was hit by a car:
"We cannot make it to her funeral
so we have our own. I grab a picture of
Busi and begin walking towards the beach. The sun is hiding behind all of
the clouds just like my smile is hiding behind the pain. Thirty minutes pass
and everyone begins to gather on the shore. We praise God. We bless His holy
name even though He has chosen to take little Busi away.
"God begins to speak to me. Our
lives are just like the waves. There is so much time and effort put into our
lives before we are even born into existence.
The wave swells and is created just like we are. For a short while, we
thrive and reach our potential. Then the wave crashes and its life is over. Just as the particles of water
sink into the sand and dance back into the vast unknown, our legacy lives on.
That's when I realized that a piece of Busi is alive in me.
"I roll up my pants and wade into
the sea where I gently place Busi's picture on the water and watch it drift
away. As I look up into the sky with tears blurring my view, I begin to smile.
God has lifted the clouds and allowed us to stand in His radiance. The pain is real, but God has
blessed us not only with Busi's life but also with her death. Glory to God in
the highest."
Feeling what it's like to lose a child you've loved like
Busi, you begin to understand why it's important that we, who have so much,
reach out in love to a needy world.


To step out and find the Busi in your life, check out:
Comment
Subscribe to Radical Living:
Receive updates on the latest posts as Seth Barnes covers many topics like spiritual formation, what if means to be a christian, how to pray, and more. Radical Living blog is all about a call to excellence in ministry, church, and leadership -as the hands and feet of Jesus.